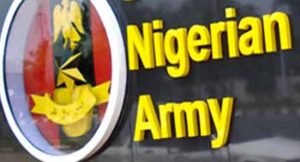 The 7 Division of the Nigerian Army has donated books and other educational aid to children affected by insurgency in Borno State.
The General Officer Commanding the 7 Division, Brigadier General Victor Ezugwu presented the items to the kids at the Bakassi Internally Displaced Person's camp in Maiduguri.
Part of items donated by the 7 Division at the Bakassi camp school includes thatched classrooms, furniture, instructional materials for teachers and books for the students.
The approach, according to Gen. Ezugwu said is part of the strategies aimed at not only winning the war but also the hearts of the people particularly the children against future indoctrination.
"The project that I and officers of 7 Division would be commissioning is in furtherance of the commitment and desire of our able Chief of Army staff's counter terrorism strategy which is aimed at applying the stick to whip Boko Haram, while using the carrot to ensure a bright future for children who are innocent victims of terrorism", Gen. Ezugwu said.
The Commissioner for Education, Musa Kaibo also shared the sentiments of the Army, he believes that if children are supported and put back in school the aim of the insurgents would have been defeated.
"We should avoid this by trying to see that most of those in the community have something to fend on in life, so that we will have a free society." Kaibo lamented.
The representative of the beneficiaries, Hadiza Abubakar thanked the guests for their generous contributions.
"Thank you for the effort made by you in improving the school condition. We appreciate the soldiers and teachers who have been putting us through." She said.