EFCC Names Diezani In Alleged 450million Naira Fraud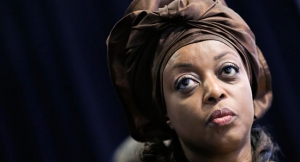 The Economic and Financial Crimes Commission (EFCC), has named former Minister of Petroleum, Mrs. Diezani Allison-Madueke, in the five count amended charge made against a former governorship candidate of the People's Democratic Party (PDP), Mr. Mohammed Dele Belgore (SAN), and a former Minister of Planning, Professor Abubakar Sulaiman.
At the resumed trial of the two defendants before a Federal High Court in Lagos on Monday, the EFCC prosecutor, Mr. Rotimi Oyedepo urged the court to allow the amended charge be read for a fresh plea to be taken.
In the five count charges, Mrs Allison-Madueke was alleged to have conspired with Belgore and Sulaiman on or about March 27, 2015, to directly take possession of 450 million Naira, which they reasonably ought to have known, forms part of the proceeds of unlawful act.
The trio were also alleged to have taken the said funds in cash, which exceeded the amount authorized by law, without going through the financial institutions.
Belgore and Sulaiman were also alleged to have paid the 50 million Naira to Sheriff Shagaya, without going through the banks.
The offences according to the prosecutor, Mr. Oyedepo, are contrary to Sections 18(a), 15(2)(d),1(a), 16(d) and punishable under sections 15(3) and 4, 16 (2)(b), and 16(d) of the Money Laundering (Prohibition) (Amendment) Act, 2012.
The defendants pleaded not guilty to all the charges and the EFCC swiftly called its first witness, Timothy Olaobaju, a banker.
In his evidence, the witness, Olaobaju told the court that the former Minister of Petroleum Resources, Mrs Diezani Alison-Madueke, stashed a sum of $115,010,000 in his bank with instructions for the money to be changed it into naira and distributed among certain individuals in the 36 states of the federation.
The beneficiaries according to the witness included the two defendants who both received 450million Naira and filled a receipt form to acknowledge the payment.
The receipt form filled by the defendants were then tendered by the EFCC and admitted by the courts as exhibits in the case.
Lawyers to the defendants took turns to plead with the court for an adjournment, to enable them adequately prepare for the cross-examination of the witness.
The court granted their request and adjourned the matter till Tuesday, March 14, 2017 for cross-examination of the witness, and continuation of trial.