Gov. Bello Demolishes Four Kidnappers' Dens In Okene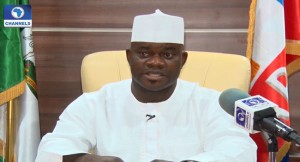 The Kogi State Governor, Yahaya Bello, has demolished buildings used by suspected kidnappers, terrorist and armed robbers in perpetrating their crime, in Okene central Senatorial district of the state.
Governor Bello, who was accompanied to the area by the Commissioner of Police, Wilson Inalegwu, and other security agencies in the state, has so far pulled down four structures, with a vow from the governor to implement the anti-kidnapping robbery and terrorism law in the state.
Recently, the central senatorial district witnessed a lot of criminality ranging from cultism, armed robbery and kidnapping.
Meanwhile, it was all celebration and jubilation by the large crowed of the people from that area who came watching as the building of the notorious kidnap Kingpin Tijanni Bakare situated at Oyunkoko ward in Okene LGA area, was pulled down by the bulldozer.
The building which was discovered to have his five cars, a tortoise, black dog, and a shrine in it was were kidnap victims were said to be paid.
Then enforcement team and the Governor also demolished the notorious Ahlui-Sunnah Mosque in Inike, Okene lga, which was reportedly hijacked in 2015 by members of the Boko Haram terrorist group and has been serving as operational base for their nefarious activities.
The last building demolished was at Adavi local government area, owned by 75-years old Aishetu Mohammed, who started crying as soon as the team arrived, her son was said to keep arms and ammunition ina  part of the house which was later discovered.
The government through the administrator of the local Government while demolishing the building, promised to build a four bedroom flat for her.