Ogun Government Demolishes Over 360 Shanties, Illegal Structures
The Ogun State government has demolished more than 360 shanties and illegal structures as part of efforts to address the security challenges in the state.
The state Commissioner for Urban and Regional Planning, Mrs Ronke Shokefun, while monitoring the exercise at the Sagamu end of the Ore/Sagamu Expressway said the indiscriminate parking of trailers and erection of shanties remained a crime punishable under the state laws.
According to Shokefun, the demolition exercise is aimed at checking the impunity with which people erect illegal structures across the state.
She said, "It's been long coming. As you can see, they are mostly shacks; they are illegal structures. It (the demolition) won't have become this extensive if they (the illegal structures) hadn't become a menace.
"Trucks park here overnight – from a couple of hours into the night you start seeing them and sometimes it's a total blockade and people travelling either towards Ijebu Ode or coming out of there, heading towards Lagos sometimes can't even pass.
"So, it has become a menace, a security threat, to citizens. As you know, the first responsibility of the governor is the security of lives and properties. So, we took that decision at the Executive Council meeting to clear this place and naturally, it falls within the purview of the Ministry of Urban and Regional Planning."
As the bulldozers moved in, shop and shanty owners made last-ditch efforts to salvage some of their wares and property.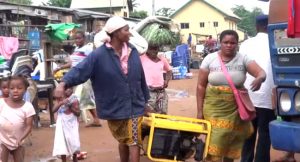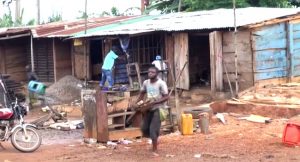 While some of those affected claimed they were not properly informed of the exercise, the government said due notice had been given and that the structures had been marked for demolition for a long time.
Shokefun, who said the exercise would bring sanity back to the environment, added that the government had made arrangements to relocate those affected by the exercise.
"The government's plan is to build malls all over the place, rows of shops. But you see, you don't take the laws into your hands pending that time," she said, adding, "I know the government is working assiduously with the Ministry of Housing to quickly create something."
The commissioner appealed to the traders affected to cooperate with the government as impunity and activities harmful to the environment would no longer be taken lightly by the government.