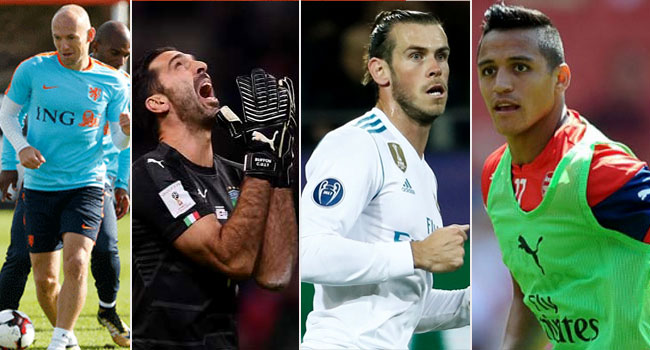 With Arjen Robben, Alexis Sanchez, Gareth Bale, and Gianluigi Buffon as the stars, it is possible to build an impressive team from players who will miss the 2018 World Cup.
In some cases, the players simply have the bad luck to represent nations who are unlikely to reach the World Cup, at least until it expands to 48 teams in 2026. Others, notably the Italians, Chilean and Dutch, may find it hard to believe that they will be watching the finals from their sofas.
The stars who symbolise shattered expectations of nations which believed they had realistic hopes of qualifying, make up this first XI. Their supporting cast and the stars of lesser teams, who few expected to see in Russia, are on the bench.
Goalkeeper: Buffon (Italy)
A monument and a global yardstick in his position, Buffon has been a seemingly ageless pillar of the Italy team over 175 caps spread across 20 years.
He was in goal when Italy won the World Cup in a penalty shootout against France in 2006 and dreamed of pulling on his gloves for a sixth World Cup at the age of 39. But defeat to Sweden in the playoff on Monday means his international career is over.
"I am devastated, devastated, devastated. Not for myself but for all football, because we have failed," he told Italian television in tears. "That is the only regret I have, certainly not the fact that I must stop playing."
"Time passes and it is a tyrant," said the Juventus goalkeeper, as dignified in defeat as in victory.
Defence: Aurier (Ivory Coast), Bonucci, Chiellini (Italy), Ghoulam (Algeria)
On either side of the back four are two men who symbolise the qualifying failures of their African nations. Serge Aurier of Tottenham Hotspur had a terrible final match as Ivory Coast lost 2-0 at home to Morocco who, as a result, qualified for Russia instead.
Napoli's Faouzi Ghoulam was not the worst player in a disastrous final stage as Algeria, who reached the last 16 in 2014 in Brazil, failed to win a single game in their group, but he is one of the stars who should lead.
To compound the humiliation three other North African teams — Egypt, Tunisia and Morocco — are going to Russia.
The famed Juventus "BBC" back three was broken up in the summer as the junior member, Leonardo Bonucci, moved to Milan, but he was back alongside Andrea Barzagli and Giorgio Chiellini against Sweden.
Those two, both well past 30, epitomise old-school Italian defensive discipline and toughness. Barzagli, 36, like Buffon and midfielder Daniele De Rossi, retired from international football after the defeat.
Midfield: Bale (Wales), Vidal (Chile), Pjanic (Bosnia)
Wales reached the semi-finals of Euro 2016, Chile lost on penalties to Brazil in the last 16 of the 2014 World Cup and then won back-to-back Copa America titles, while Bosnia, with a far shorter history, qualified for the first time when they reached the last World Cup. All three agonisingly missed out this time.
For Wales the journey ended with a 1-0 home loss to the Republic of Ireland in their final qualifier. Their injured Real Madrid star Bale could only watch as his country suffered their only defeat of the campaign. Bayern Munich midfielder Arturo Vidal was also absent for Chile at the key moment. He was suspended for the final group game away to Brazil. Chile lost 3-0 and dropped three places, surrendering a direct ticket to Russia and even missing out on a playoff place to Peru on goal difference.
Miralem Pjanic, of Juventus, was on the field as Bosnia, in a position to finish second in their group, blew a two-goal lead and lost in Cyprus in August, a result that opened the door for Greece.
Attackers: Robben (Netherlands), Aubameyang (Gabon), Sanchez (Chile)
The Netherlands may have missed Euro 2016 but Bayern's Robben had helped them to two World Cup exploits: the final in 2010 and third place in 2014. He scored both goals as the Netherlands won their final group game 2-0 against Sweden but since the Dutch needed to win by seven to edge past the Swedes on goal difference, it was no more than a proud star fighting vainly to the end.
And time will beat Robben as it has Buffon. At 33 the "Flying Dutchman" has indicated he will retire from the national team.
Gabon's Pierre-Emerick Aubameyang, the top scorer in the Bundesliga last season, was propelling his tiny nation towards a first ever World Cup, until they lost 3-0 in Morocco in a game that ultimately settled the group. The Borussia Dortmund striker found the loss hard to swallow. He blamed poisoned orange juice.
Arsenal's Sanchez hit seven goals for Chile in qualifying, second only to Lionel Messi in the South American group. It was not enough and Sanchez, who has been persistently linked to Manchester City, will be able to spend the summer focussing on his future.
On the bench
Jan Oblak (Slovenia); Antonio Valencia (Ecuador), Virgil van Dijk (Netherlands), Stefan Savic (Montenegro), David Alaba (Austria); Henrikh Mkhitaryan (Armenia), Naby Keita (Guinea), Victor Wanyama (Kenya); Stevan Jovetic (Montenegro), Wilfried Zaha (Ivory Coast), Ciro Immobile (Italy)
AFP