Police Arrest Nine Suspected Kidnappers, Bag Snatchers In Aba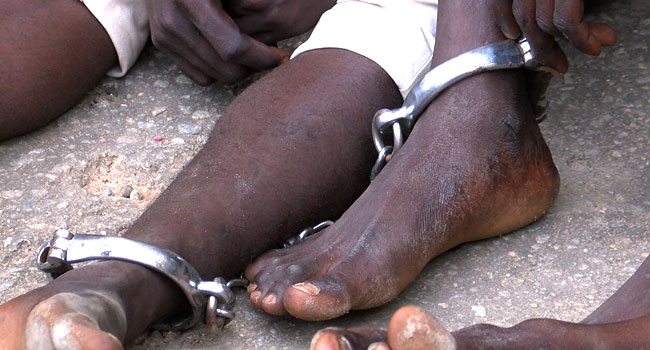 Six suspended kidnappers and three bag snatchers and shoplifters were on Monday arrested by a combined team involving the Inspector General's Intelligence Response Team in Aba, Abia State.
Commissioner of Police in the State, Anthony Ogbizi, while parading the suspects at the command headquarters in Umuahia said that there was no life lost either of the suspects or the police during the gun duel with the kidnappers although the suspects sustained gunshot wounds.
One of the suspect, Mr Sylvester Prince while speaking with journalists claimed that he was not involved in the kidnapping but only collected money from the gang for hiring his bus for their operations.
READ ALSO: Suspected Female Kidnapper Lynched In Ilorin
"I am not among the kidnappers, I swear, I only lend my bus to the gang which they normally use for their operations, all I can say is that they have used the bus two times. The first time, they gave me N50,000 and the second time, I received  N400,000 which I used to pay my debts. I am not a kidnapper, the gang used my bus for their operations and pay me after their business," he claimed.
Three other suspects arrested and paraded for robbery and burglary include Samson Tochi, Joseph Sunday and Osondu Nwagboso all between the ages 21 and 22 respectively.
They were arrested for shop looting, snatching handbags, money and mobile phones from unsuspecting members of the public who were at the command headquarters to testify against them.
Ogbizi said the command has beefed up security network in the state and therefore it will be difficult for the gang and other criminals to escape.
"The suspects paraded here were engaged in a gun battle by a combined team and Inspector General's Intelligence Response Team in their bungalow at the World Bank housing estate in Aba," Ogbizi said.
READ ALSO: Two Men Get Death Sentence For Murder
He also called for cooperation of the members of the public to assist the police by supplying information on happening within their vicinity and report immediately any suspicious character.