APC Holds NEC Meeting In Abuja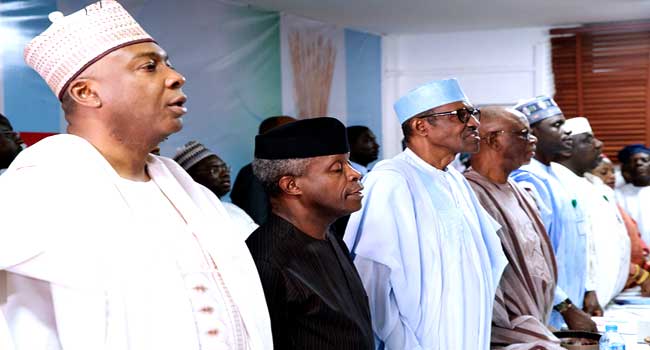 The National Executive Committee of the All Progressives Congress on Monday held another meeting at the Federal Capital Territory (FCT), Abuja.
The NEC meeting was attended by President Muhammadu Buhari where he declared the intention to seek re-election in 2019.
Vice President Yemi Osinbajo, Senate President Bukola Saraki, Chief Whip, House of Representatives, Alhassan Ado Doguwa and APC Governor were at the meeting.
The state represented at the meeting include Osun, Benue, Plateau, Bauchi, Kebbi, Jigawa, Kaduna, Kogi, Borno, Sokoto, Adamawa, Oyo, Imo, Ogun,  Ondo, Nasarawa and Kano. Katsina, Edo, Yobe and Niger States.
Apart from the President's declaration to seek re-election, the NEC ratified the recommendation of the technical committee calling for the conduct of elections for national and state executive officers of the party.
The meeting comes on the heels of the disagreements of some NEC members over the decision made at a February meeting where members decided to extend the tenure of the John Oyegun-led NWC and by extension some states leadership.
The decision was announced on February 27 in Abuja during a NEC meeting attended by President Buhari, Vice President Yemi Osinbajo, APC Chairman John Oyegun and other party chieftains.
President Muhammadu Buhari a month after raised an objection and explained that after due consultation, it became imperative to overturn the resolution to extend the NWC's tenure as it contravened Article 17 Sub-section 1 of the Party constitution which recommends a 4-year tenure for all elected officials.
READ ALSO: Tenure Extension: Buhari Has Saved APC From Disaster – Shehu Sani
President Buhari at the meeting said the tenure elongation is a clear breach of both the Party and nation's constitution. He warned that this might create some legal problems in the coming days as some aggrieved members had already gone to court to challenge the extension.
Following the President's objection, the party set up a 10-member committee to advise it on the issue and examine the President's position.
The APC governors who had earlier supported the tenure elongation later aligned with the president on his stance. This was after series of consultations.
The Governor of Zamfara State, who spoke on behalf of the governors, last week Wednesday, said after several meetings of all APC governors and other stakeholders, they have resolved to respect the party's constitution.
The Governor Simon Lalong-led technical committee then submitted its report and the NEC is expected today to announce modalities on the congresses and elections in anticipation of the expiration of the officials' tenure which terminates by end of June.