Buhari Declares Intention To Run For Second Term
President Muhammadu Buhari has declared the intention to run for the second term after months of speculation.
The President said this on Monday at a meeting of the National Executive Committee (NEC) of the ruling All Progressives Congress (APC) leadership.
The national publicity secretary of the APC, Bolaji Abdullahi and the Chief Whip, House of Representatives, Alhassan Ado Doguwa confirmed this while addressing journalists in Abuja after the NEC meeting.
The NEC meeting is attended by Vice President Yemi Osinbajo, Senate President Bukola Saraki, Speaker of the House of Representatives Yakubu Dogara and other APC governors.
Special adviser to the President on New media and engagement, Bashir Ahmad in a tweet on his official handle @BashirAhmaad also confirmed the President's declaration.
"President Muhammadu Buhari has just officially announced his intention to seek re-election in 2019. Details soon…" his tweet read.
'Buhari Must Seek Re-election'
Buhari's decision to officially declare the intention to run for the second term follows various speculations. Many APC governors had however endorsed him for second term.
Governor El-Rufai earlier this year led some governors to the presidential villa asking President Buhari to seek reelection.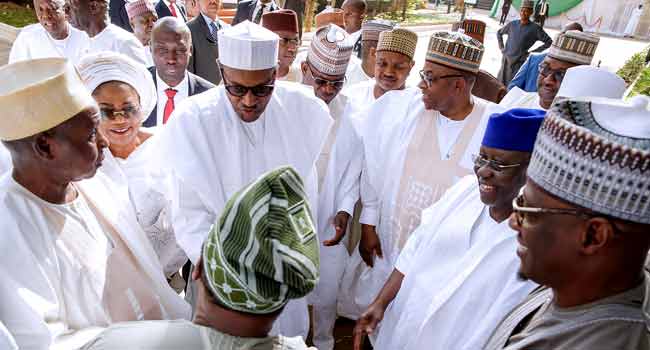 The governors include Yahaya Bello of Kogi State, Abdullahi Ganduje of Kano, Simon Lalong of Plateau State, Abubakar Bello of Niger State, Jibrilla Bindow of Adamawa State and Ibrahim Geidam of Yobe State.
"We are politicians and those of us that you see here want the President to contest for a second term of office. So, everything is about 2019; there is no hiding that. We have no apologies for that.
"We believe in the President, we want him to keep running the country in the right direction. So, people can speculate about 2019; we have no apologies," El-Rufai said.
Ganduje also threatened to take legal action again Buhari if he did not declare intention for re-election.
President Muhammadu Buhari in February asked the state governors to give him more time to decide whether he will seek re-election in 2019.
Obasanjo's Advice
Meanwhile, Former President Olusegun Obasanjo in a 13-page statement had blasted President Buhari and advised him not to seek re-election in 2019.
The statement which was released in January this year said Buhari should not toy with the patience of Nigerians but should in a dignified way dismount from the horse (seat of power).
"President Buhari needs a dignified and honourable dismount from the horse. He needs to have time to reflect, refurbish physically and recoup and after appropriate rest, once again, join the stock of Nigerian leaders whose experience, influence, wisdom and outreach can be deployed on the sideline for the good of the country.  His place in history is already assured," Obasanjo said in the public statement.