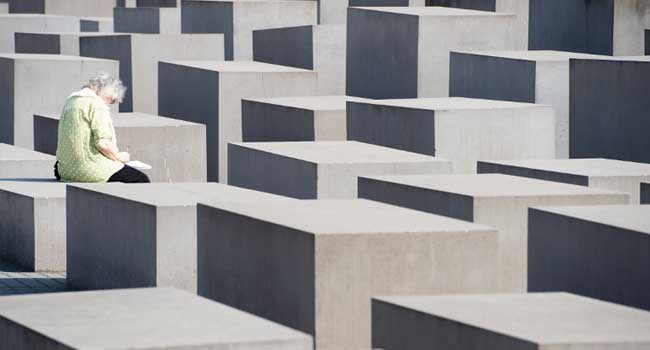 Two Holocaust survivors and a Polish anti-Nazi resistance fighter have filed a lawsuit against the publisher of books praising Nazi dictator Adolf Hitler in a civil case that the plaintiffs' lawyers said on Monday is the first of its kind in Poland.
The lawsuit against Katmar, a publisher based in the Baltic port city of Gdansk, focuses on pro-Nazi propaganda books by Belgian Nazi collaborator and SS officer Leon Degrelle entitled "The Age of Hitler 1", "The Age of Hitler 2" and "Hitler the Democrat".
Degrelle led Belgium's far-right Rex Party before the war, and then became a Nazi SS officer decorated by Hitler.
"The promotion of Nazism and Holocaust denial is a criminal offence in Poland, and in theory prosecutable in the criminal courts, but in practice public prosecutors fail to act effectively in the majority of cases," Wojciech Kozlowski, a lawyer with global solicitors Dentons, told AFP.
"This is the first civil case of its kind ever brought in Poland," he said, adding prosecutors had rejected a previous suit against the Katmar publications under an article in Poland's criminal code outlawing hate speech.
The plaintiffs argue that the Katmar publications authored by Degrelle can be regarded as pro-Nazi propaganda rather than a historical record because they do not contain a forward that would contextualise their content.
Contacted by AFP, Katmar representative Andrzej Ryba flatly denied having any far-right sympathies or wrongdoing, insisting that the books offer insight into the Nazi mentality and are therefore of historic interest.
The books were "not to glorify Hitler, but to show the true face of the Germans – their attitude to Hitler, which Degrelle exemplifies," Ryba told AFP via email.
He also said that he made his condemnation of Nazi ideology clear in a publisher's note.
Dignity
The lawsuit, filed on Friday in a Warsaw court under Articles 23 and 24 of the civil code, alleges that the Katmar publications violate the plaintiffs' rights, including their dignity as persons who suffered under the Nazi German regime in occupied Poland.
The plaintiffs, who are all in their eighties and have declined to reveal their identities, want Katmar to stop selling and distributing Degrelle's work, to publish apologies in the Polish press and to pay 40,000 zlotys (9,500 euros, $11,700) to charity.
One of the plaintiffs fought the Nazis in the doomed 1944 Warsaw Uprising while the two Holocaust survivors were both saved from the Warsaw Ghetto as children. Their family members were killed by the Nazis.
"The motivation behind my involvement, in this case, is to protect historical truth about Nazi crimes and to pass this truth on to the young generations of Poles," one of the plaintiffs said in a press release.
AFP