Channels Kids Cup: Lagos Preliminaries Draw Ceremony Holds Friday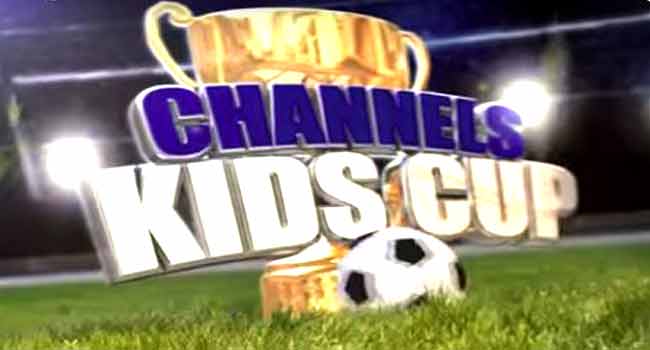 The draw ceremony for Season 10 of the Channels International Kids Cup, Lagos preliminaries will be done on Friday, May 4.
During the event which will take place at the Channels TV Headquarters in Lagos by 10:00am, the 32 schools cleared by the technical committee will be paired into two groups and compete from two centres in a knock-out format.
A group of 16 schools will play at Campos Square Mini Stadium in Lagos Island while the other will be at the Isheri Mini Stadium in Isheri Olowora.
The last two schools standing from each centre will represent Lagos State at the International finals.
Meanwhile, pupils of Green Haven Montessori School, Isheri North have intensified preparations ahead of the Lagos preliminaries.
Three times in a week, the players engage in drills and workouts that will keep them fit for the competition.
The school won their first match last year and crashed out after losing to Troika School via penalties.
One of the players, Favour Adedolapo, told Channels Television that he believes his team will do better this year.
Adedolapo said, ''We tried our best last year, but unfortunately, we lost on penalties to Troika School. This time around, we are prepared for any school. We have been training hard, our dream is to bring the trophy to our school.''
The Lagos preliminaries will kick off on Monday, May 7, and run till May 11.
Complete List Of 32 Shortlisted Schools
X-Planter Primary School, Ikorodu
Salaudeen Nursery And Primary School, Ikorodu
Agboyi Primary School, Ketu
Abina Omololu Primary School, Surulere
Jude's Private School, Festac Town
Methodist Nur. & Primary School
Infant Jesus Primary School, Ajegunle
Oke Ifako Primary School, Gbagada
Green Haven Montessori School, Isheri North
Akoka Primary School, Akoka
Straightgate School, Magodo
Zummuratul Islamiya Primary School, Ikorodu
Gem Private School, Omole Phase One
Army Children School, Abule-Egba
Maryland Convent Primary School, Maryland
Lagos State Model Primary School, Badore
Naowa Primary School, Ikeja Military Cantonment
Donmen Schools, Ajegunle
Community Primary School, Imota, Ikorodu
Innercity Mission Primary School, Oregun Ikeja
Bols International School, Ipaja
Troika School, Lekki
Bernadette Schools, Ipaja
Oke Isagun Primary School, Alimosho
St Paul Catholic Primary School, Apapa Road
United Native Of Africa Primary School (Una), Ikorodu
Islamic Model Primary School, Mushin
Eunifrance School, Ikorodu
Mainland Model Primary School, Mushin
Supreme Education Foundation Schools, Magodo
Paul's Anglican School, Lagos Island
Oye Primary School, Mushin.
More on Channels Kids Cup