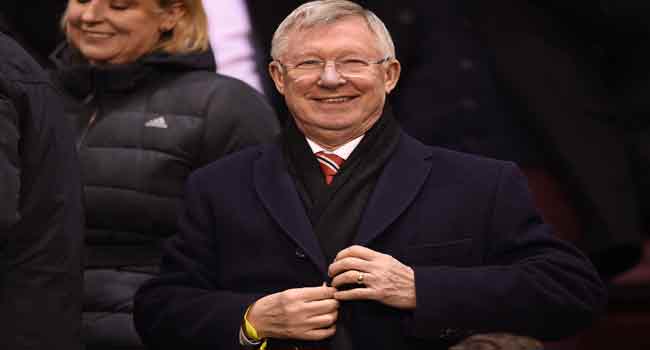 Manchester United confirmed on Wednesday that legendary form manager Alex Ferguson is out of intensive care following emergency surgery on a brain haemorrhage.
Ferguson, 67, was admitted to Salford Royal Hospital for the procedure on Saturday after a fall at his home near Manchester.
"Sir Alex no longer needs intensive care and will continue rehabilitation as an inpatient," United said in a statement.
"His family have been overwhelmed by the level of support and good wishes but continue to request privacy as this will be vital during this next stage of recovery."
United's statement was the first update on Ferguson's condition provided by the club since saying the procedure on the haemorrhage on Saturday had gone "very well".
Considered the most successful manager in the history of British football, Ferguson won 38 trophies in just over 26 years in charge of United, including 13 Premier League titles and the Champions League twice before retiring in 2013.
Ferguson also worked wonders at Aberdeen, winning the Cup Winners' Cup and three Scottish league titles with the Dons, before arriving at Old Trafford in 1986.
Earlier on Wednesday, current United manager Jose Mourinho said the club are "very positive" Ferguson would make a full recovery.
The esteem with which Ferguson is held around the world was reflected in an outpouring of well wishes, including from a number of United's rivals and figures the Scot challenged for trophies during a glorious career.
Ferguson famously described his mission upon joining United as knocking Liverpool "off their perch".
He duly did so as United overtook Liverpool as the most successful side in English domestic football.
Nevertheless, Liverpool manager Jurgen Klopp described Ferguson as "absolutely the boss".
United have struggled to recreate the success produced by Ferguson in the five years since his departure.
Not only have the 20-time English champions failed to win the league since Ferguson's retirement, but they have failed to once finish above big-spending local rivals Manchester City.
City lifted the Premier League trophy for a third time in seven seasons on Sunday.
But the respect held for Ferguson was even clear in City's celebrations as fans held up a banner reading: "Football aside get well Fergie."
"All the Manchester City fans in the stadium, you cannot find one person who does not wish the best for an amazing person," City manager Pep Guardiola.
Manchester United club captain Michael Carrick, who Ferguson brought to the club from Tottenham in 2006, thanked the well-wishers from across the globe.
"The whole football world is incredible but outside of that as well, from all corners of the globe and different walks of life, people have shown their support," Carrick told MUTV.
"That's the effect he had on people. It was the effect he had on everyone. He means a lot to me, as he does to this club."
AFP