Taraji, Tyler Perry Thank Fans As Acrimony Trends Again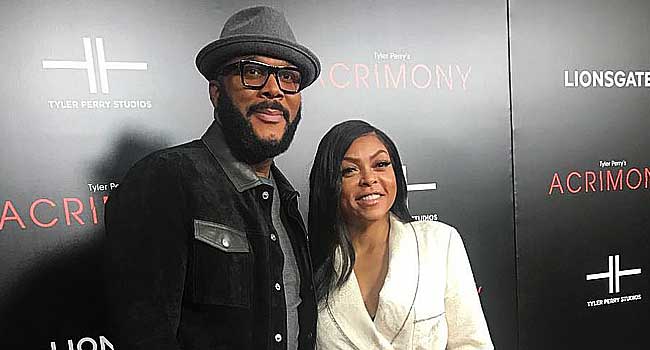 Lead actress in Tyler Perry's Psychological Thriller, Acrimony, Taraji P. Henson, has thanked fans for the love shown to the movie even as it trended again, nearly four months after its release.
The actress took to her Instagram to show her appreciation on Tuesday.
Also, the movie director, Perry, went on the platform to thank fans for the fresh buzz and the conversations that were generated as a result.

Read Also: Tyler Perry's Acrimony Trends Again, Months After Release
Starring Taraji P. Henson and Lyriq Bent, Acrimony tells an intriguing story of a faithful black woman who feels enraged after being "betrayed" by her husband.
The story starts when she meets Robert in college. He seems to be the perfect handsome selfless dude until her mother's funeral when he exploits her grief to seduce her and then gets her to take $25,000 out of her inheritance to buy him a vintage car.
Shortly after, she finds out that he'd been sleeping with someone else.
However, she forgives him, and they get married eventually.
He spends years working on the invention and eventually trying to secure an appointment with Prescott – a company that has a lottery system for sourcing potential clients.
However, he comes off as lazy and in fact crazy – especially to Melinda's sisters who in the first instance never really trusted his intentions.
In a sad turn of events, they get divorced but Robert's invention finally succeeds.
He's finally rich after striking a million dollar-deal and will be getting married to another woman, Diana, who will now reap the benefits (yacht, diamond ring, sky-view penthouse).
Melinda finds out and goes crazy. She's hell-bent on taking revenge.
On their (Robert and his new wife Diana's) honeymoon cruise, she appears and shoots Robert, makes the crew of the boat jump overboard and is about to shoot Diana, but Robert knocks her overboard.
It's no doubt that Acrimony is indeed one that leaves most viewers in utter shock and in a state of introspection.
At the weekend, it emerged as one of the top trends, with nearly 20k tweets, leaving some puzzled and others joining the debate over who was to blame for the outcome.
Since its premiere on March 30, the movie has grossed $43.5 million in the United States and Canada, and $2.8 million in other regions, reaching a worldwide total of $46.3 million.