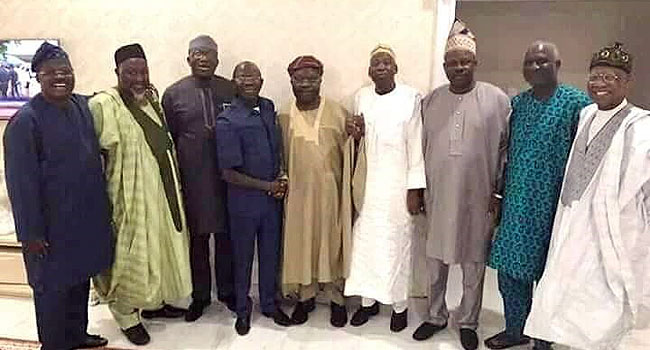 Ahead of the rerun election in Osun State, the National Chairman of the All Progressives Congress, Adams Oshiomhole, has led a delegation from the ruling party to visit the candidate of the Social Democratic Party, Iyiola Omisore.
Those who visited the SDP candidate along with Oshiomhole include the Governor Abdullahi Ganduje of Kano State, Governor Abiola Ajimobi of Oyo State, and Governor Ibikunle Amosun of Ogun State.
The Minister of Information and Culture, Lai Mohammed, and Ekiti State Governor-elect, Kayode Fayemi, were also part of the APC delegation.
Omisore who secured the third highest votes in Saturday's governorship election is considered pivotal to the outcome of the rerun election.
As a result, both the APC and the PDP have made efforts to secure his support for Thursday's rerun election.
Omisore had earlier said he would only support a party which supports his vision and the vision of his party for Osun State.
INEC had declared the governorship election inconclusive on Sunday after announcing that the margin between the two top candidates was less than the total number of votes in polling units where voting was cancelled.
PDP candidate Ademola Adeleke led the race with 254,698 votes, 353 votes more than his closest rival, Gboyega Oyetola of the APC who got 254,345 votes. Omisore secured 128,049 votes.
A total of 3,489 votes will be at stake during the rerun. A chunk of it – 1,667 votes – – is in Ife which is believed to be a stronghold of Omisore.
See the full details of the seven polling units and the votes at stake below: