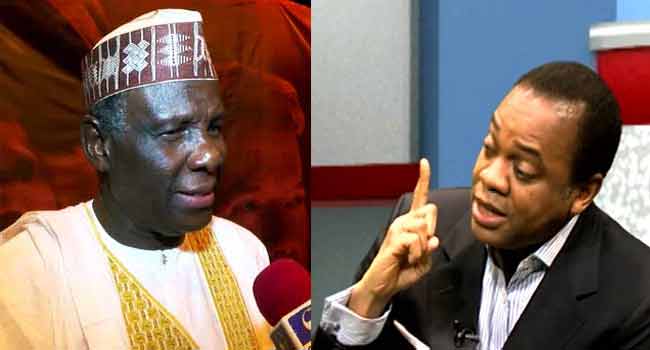 An FCT High Court sitting in Abuja has declared a former Minister of Information, Professor Jerry Gana, as the winner of the presidential primary of the Social Democratic Party (SDP).
Justice Hussein Baba-Yusuf made the declaration on Friday in his ruling and nullified the candidacy of former Cross River State Governor, Donald Duke, as the party's flagbearer.
Hours after the judgement, Professor Gana commended the ruling of the court while addressing a news conference elsewhere in the nation's capital.
According to him, the verdict of the court is a victory for democracy and party politics as the culture of imposition of candidates by political parties is no longer fashionable.
The former minister said he was in full support of the peace accord initiated by the National Peace Committee led by General Abdulsalami Abubakar.
He added that he was ever prepared for a peaceful process in the forthcoming general elections.
---
READ ALSO
2019 Elections: Donald Duke Signs Peace Accord
Jerry Gana Asks Court To Disqualify Donald Duke As SDP Presidential Candidate
---
The ruling came one day after Mr Duke visited the office of the peace committee to sign the peace accord ahead of the polls.
He signed the agreement two days after President Muhammadu Buhari and other presidential candidates signed the accord on Tuesday.
Former Vice President Atiku Abubakar, and former Minister of Education, Oby Ezekwesili, who missed the signing ceremony, had later visited the peace committee office on Wednesday to sign the agreement.
Professor Gana had gone to the court in November, seeking to be declared the winner of the primary, in line with the zoning formula of the party.
He approached the court after the SDP announced that Mr Duke won the primary it held in October.
According to the party, the former governor polled 812 votes to defeat the former minister who scored 611 votes.
But Gana asked the court to nullify the emergence of Duke on the grounds that the process that produced him violated the constitution of the party.
He claimed that the convention of the party which ushered in Duke as the presidential candidate of the party was illegal and flawed.
"In the party's constitution as provided under section 15(3), it was stipulated that the party will respect the principle of rotation and zoning because it is important to building up of the Federal Republic of Nigeria," the former minister had told the court.
He had also explained that the SDP constitution stated that if the chairman comes from the southern part of Nigeria, then the presidential candidate must come from the northern region.