UPDATED: Buhari Signs N30,000 Minimum Wage Bill Into Law
President Muhammadu Buhari has signed into law, the Minimum Wage Repeal and Re-Enactment Act, 2019.
The Senior Special Assistant to the President on National Assembly Matters (Senate), Senator Ita Enang, disclosed this to State House correspondents on Thursday in Abuja, the nation's capital.
According to him, the President expects that Nigerian workers and the Nigeria Labour Congress (NLC) will show more commitment to work.
READ ALSO: Minimum Wage Assent 'Good Step In The Right Direction' – Saraki
Senator Enang said President Buhari also asked them to understand the current economic situation facing the nation, as the Federal Government tries to boost road, power and rail infrastructure.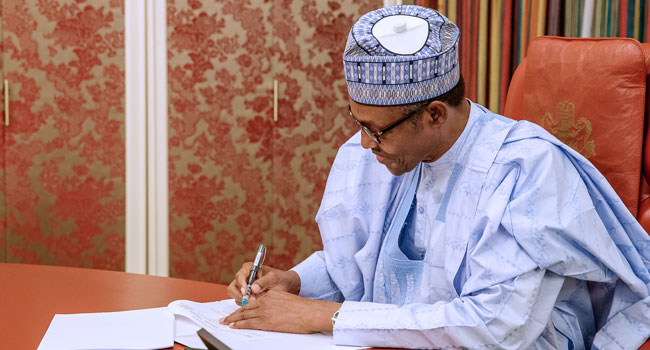 On the importance of the Act, the presidential aide said, "This makes it compulsory for all employers of labour in Nigeria to pay to their workers the sum of N30,000.
"This excludes persons who are employing less than 25 workers, persons who work in a ship which sails out of jurisdiction and other persons who are in other kinds of regulated employment which are accepted by the Act."
Senator Enang added, "It also gives workers the right if you are compelled by any circumstance to accept salary that is less than N30,000 to sue your employer to recover the balance.
"It also authorises the Minister of Labour and any person nominated by the Minister of Labour or any person designated by the Minister of Labour in any ministry, department or agency to, on your behalf, take action in your name against such employer to recover the balance of your wages."
The government and the President's Personal Assistant on New Media, Bashir Ahmad, also confirmed this in a tweet.
I signed the New National Minimum Wage Bill into Law today at the State House, eight years after the last review. I would like to express gratitude to everyone who contributed to this very important task, and reiterate our commitment to the welfare of all Nigerians. pic.twitter.com/yb0tQxuZ0T

— Muhammadu Buhari (@MBuhari) April 18, 2019
President @MBuhari this afternoon assented to the National Minimum Wage Bill 2019 passed by the National Assembly. Implementation will be with immediate effect. #AsoVillaToday

— Presidency Nigeria (@NGRPresident) April 18, 2019
President @MBuhari has signed the National Minimum Wage Bill into law.

— Bashir Ahmad (@BashirAhmaad) April 18, 2019
The President assented to the Act barely three weeks after he received the report of the Presidential Technical Advisory Committee on the Implementation of the National Minimum Wage (PTAC).
The report was presented to the President on March 25, 2019, by the chairman of the committee and economist, Mr Bismarck Rewane.