Panel Resumes Investigation Into Operations Of Suspended EFCC Boss, Magu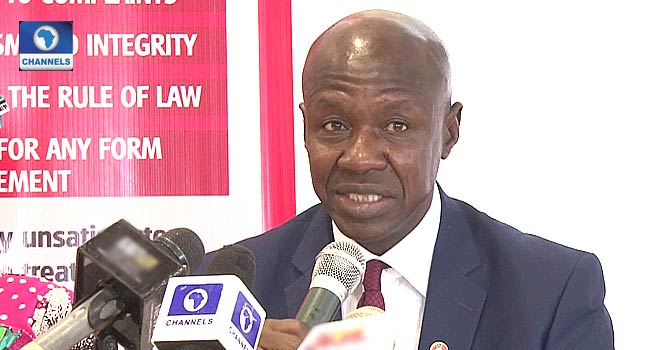 The Justice Salami-led presidential panel investigating the operations of the suspended acting chairman of the Economic and Financial Crimes Commission (EFCC), Mr Ibrahim Magu, resumed today.
Mr Magu is been investigated over alleged mismanagement of recovered assets by the EFCC between May 2015 and May 2020, a process triggered by allegations against him by the Attorney General and Minister of Justice, Mr. Abubakar Malami
Sources close to the presidential panel told Channels Television that the panel at today's proceeding promised to give Mr. Magu fair hearing in the process of investigating the allegations leveled against the embattled anti-graft boss
At today's hearing channels television gathered that Mr. Magu requested that the proceeding be documented on video or recorded but it was turned down.
The panel is reported to have told Mr. Magu that the venue of the sitting is temporary and therefore it is impossible to install video recording equipment.
The panel, however, promised that it will be fair in its approach and conduct of what it says its a fact-finding mission and not a trial.
When Channels TV sought to find out about the proceedings of today from Mr. Magu's counsel, Mr Wahab Shittu, he said Magu trusts the long-standing integrity of the chairman of the panel Justice Salami and will count on its promise to be fair in the handling of the investigation.
Mr Magu, who was first arrested a few weeks ago in Abuja by a team of police officers, who dragged him to the statehouse to appear before the Justice Ayo Salami-led presidential investigative committee, had complained about what he termed unfortunate handling of his investigation for alleged corruption, saying he has consequently been paraded like a common criminal.
He has since denied all allegations levelled against him.