LIVE UPDATES: Akeredolu, Jegede Square Off At Ondo Governorship Debate
All is now set for the debate between some of the candidates taking part in the Ondo State Governorship election billed for Saturday.
Two out of 17 candidates were selected and they will take to the stage tonight in an encounter that hopes to unearth the plans of the candidates and how they hope to achieve them.
The candidates are the incumbent governor and candidate of the All Progressives Congress, Oluwarotimi Akeredolu and candidate of the Peoples Democratic Party, Eyitayo Jegede.
The debate is being organised by Channels Television, in partnership with the Civil Society Elections Situation Room and UK AID with support from UK foreign commonwealth development office.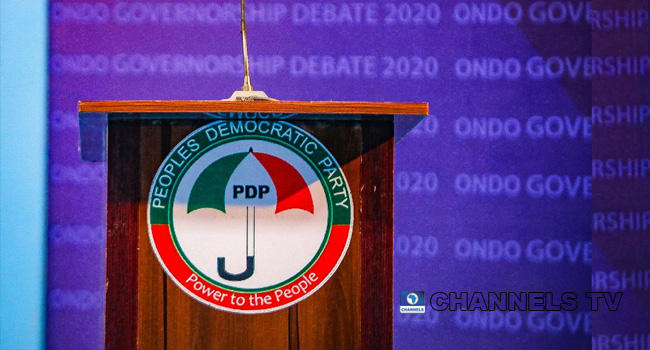 7:03 pm: Governor Rotimi Akeredolu arrived at the venue of the debate but the candidate of the PDP is yet to arrive at the venue.
---
---
7:04 pm: The time of the debate has been shifted to 7:30 pm
---
7:30 pm: The debate has commenced as hosted by Seun Okinbaloye.
---
7:39 pm: We need a very composed and focused leadership – Akeredolu
---
7: 39 pm: Things will change for the better in Ondo – Akeredolu
---
7:41 pm: What I will do within my first 100 days if re-elected – Akeredolu
7:43 pm: PDP candidate has arrived at the debate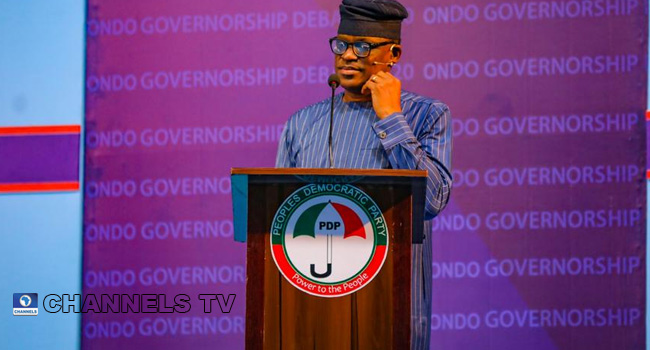 ---
7: 48 pm: In his opening remarks, he decries the increase in school fees by the state government and other challenges faced by the people
7:49 pm: Now on break
---
7:50 pm: Return to debate
---
7: 51 pm: Focus now shifts to economy
---
7:55 pm: Jegede speaks on his plans to increase government revenue without increasing taxes.
He says residents would be encouraged and would pay their tax joyfully.
---
7: 57 pm: Akeredolu, on his part, plans to leverage existing efforts and offers robust internal revenue services.
---
8: 06 pm:  Jegede plans to Improve Bitumen exploration through public-private partnerships.
He said Cocoa output has failed to improve in the state.
---
8:08 pm: Akeredolu says his administration improved bitumen exploration in the whole of Nigeria, says Jegede failed to give him credit for that.
---
8:08 pm: Jegede responds saying all Akeredolu said were lies.
---
8:09 pm:  But Akeredolu insisted that the figures are out there to verify, saying he pitied Jegede.
---
8:12 pm:  On OSOPADEC, Akeredolu says his government has done well in the areas of infrastructural development and basic amenities for people of the oil-producing communities, he mentioned power, portable water, and street-lightening to mention a few.
---
8:13 pm:  Again, Jegede disagrees with the Akeredolu on the purported achievements of his administration.
---
8:15 pm:  On his part, Akeredolu says the people are being cared for, especially the vulnerable group who are enjoying free medical care among others.
---
8: 18 pm:  On pension, Akeredolu blamed the two immediate past governors of Ondo State.
---
8: 20 pm: He alleged that the former governors did not give the pensioners any sense of belonging.
---
8:27 pm:  I am not pleased with Nigeria's security architecture – Akeredolu
---
8: 28 pm: There must be deliberate policies to stem security challenges – Jegede
---
8:31 pm: Why Amotekun Security Network will never fail – Akeredolu
---
8: 36 pm: On SARS, Akeredolu says personnel should be retrained to curb excesses.
---
8: 37 pm: For Jegede, SARS must operate within the ambit of the law.
---
8: 42 pm: Jegede speaks about a fallout with ex-principal, confident of victory.
---
8:54 pm: On education, Akeredolu gives a breakdown of the efforts so far to improve the sector. He believes it is work in progress and is part of the plans if re-elected.
---
8: 55 pm:  Jegede disagrees with his APC counterpart, saying the hike in education fees, especially at the tertiary level, should be condemned.
---
8: 56 pm: Akeredolu, in his response, justified the action of the government, he said the government runs two universities and the intention was to provide good education.
---
8: 58 pm: "Eyitayo, have you not seen the impact of good governance in Ondo?" Akeredolu asks the PDP candidate.
---
8: 59 pm:  "Unfortunately, I have not seen," I will do more than you sir, Jegede replies
---
9: 00 pm:  Both candidates were left alone to engage one another without the moderator interfering.
---
9:01 pm: Akeredolu and Eyitayo exchange pleasantries before the end of the debate.