Security Agents Deny Protesting Lawyers Entrance Into Edo Govt Office
Representatives of members of the Nigerian Bar Association (NBA) from the different branches in Edo State were denied entrance into the state government House office during their visit on Monday.
The lawyers embarked on a walk to the Government House in Benin City, the state capital to appeal to the state government to comply with constitutional provisions on the financial autonomy of the Judiciary.
However, on arrival at the government house entrance, they could not gain access to the premises as they were denied entry by security operatives.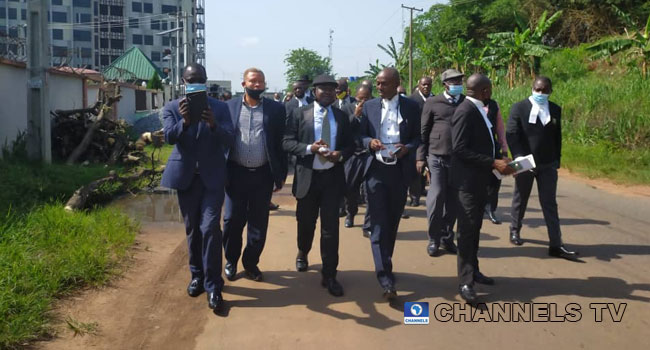 The Chief Security Officer cited COVID-19 protocols which would allow only some out of the number to be allowed inside the premises.
He also informed them that no member of the executive was available to attend to them.
The NBA members subsequently held on to the letter containing their demands which they had intended to hand over to the governor and then shared their grievances with journalists present after which they proceeded to the state secretariat of the Nigerian Union of Journalists (NUJ).
The lawyers are on a peaceful march in solidarity with judiciary workers who are protesting financial autonomy.
JUSUN since April 6, 2021, left the courts in Nigeria under lock and key because of the non-implementation of financial autonomy for the judiciary as the third arm of government.
They commenced a nationwide strike today, April 19, 2021.