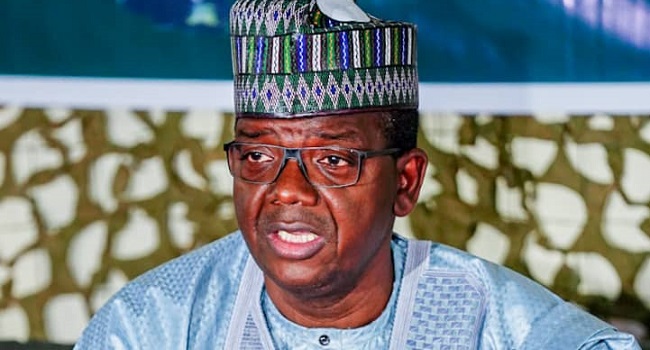 Zamfara State Governor, Bello Matawalle, has called for a state of emergency in the northern part of the country over the security challenges in the region.
He made the call on Wednesday at a meeting with the Assistant Inspector-General of Police in charge of Zone 10, Ali Janga, at the Government House in Gusau, the state capital.
The governor who is seriously concerned about the series of attacks in many states in the region believes a declaration of a state of emergency will address the problem of insecurity in the North.
Nigeria's northern region comprises three geopolitical zones – North East, North West, and North-Central – and 19 states, as well as the Federal Capital Territory (FCT).
Over the years, parts of the region have been grappling with a series of criminal activities such as kidnapping, bombings, and attacks on communities as a result of insurgency and banditry.
Before now, hundreds of thousands of people have been killed in the region while millions were forced to flee their ancestral homes.
Boko Haram and Islamic State in West Africa Province (ISWAP) are largely responsible for the incidents in the North East, while bandits have continued to engage in kidnapping for ransom in the North West and parts of the North Central.
Schools and security formations have been targets for the criminals, and the latest is the attack on the Nigeria Nigerian Defence Academy in Kaduna State.
For some persons of concern, including Governor Nasir El-Rufai of Kaduna State, there is a strong connection between the terrorists and the bandits.
Following the meeting with the senior police officer on Wednesday, Governor Matawalle briefed the people of the state on the present security situation in Zamfara.
Read the full text of the briefing below:
My dear people of Zamfara State.

Following the recent upsurge in banditry attacks in some parts of our dear State, I feel compelled to address you on the new steps being taken by my administration to contain the situation.

As we all know, the primary objective of the state is to provide security for the lives of the people and their property. My primary motivation for running for the office of governor in 2019 is to devote myself to addressing the enormous and protracted security challenges faced by our dear state for over a decade.

I wish to express my profound sympathies to all those who have lost their loved ones, property, and those who have been displaced and separated from their family. My heart goes to the women and children who have been forced to live in deplorable conditions of being widows, orphans and displaced as a result of the bandits' constant onslaught.

One can only imagine the constant state of misery and sleeplessness that our people are frequently experiencing. We must remain resolute in our efforts to contain this situation.

Even though we were all aware of the bleak situation of Zamfara State before I took over as Governor in May 2019, it would not be inappropriate for me to take a trip down memory lane to remind us of it.

Many parts of the state were literally governed by the bandits, who were having a field day in virtually all the rural areas of the state. Villages were being raided in the most inhumane manner possible-massacres carried out, and those who survived the attacks were subjected to all forms of indignities, including rape and torture.

Virtually all markets were closed as traders could not risk their lives to attend the markets. There was a general sense of despondency everywhere, as the entire rural economy, which is largely agrarian, had collapsed, posing the threat of starvation. The rural Zamfara was a huge centre of humanitarian catastrophe with people left to their own devices.

From day one, my administration took a close look at the situation and weighed the choices. Following extensive consultations with all relevant stakeholders, including traditional and religious leaders and security services, it was overwhelmingly agreed that the best way to address such a huge security challenge, which has the appearance of ethnic and inter-communal disharmony, is through dialogue and reconciliation with feuding parties. For example:

We have seen a remarkable precedent in the act of Prophet Muhammad, may the peace of Allah be upon him, where he brokered peace with Banu Aws and Banu Khazraj through the process of dialogue and reconciliation.

In our contemporary time, we have seen how the dialogue mechanism was used to end the Nigerian civil war, which raged between 1967 and 1970; the Lebanese civil war of 1975 to 1990; we have seen how peace mechanism worked between Tivs and Jukun and many other conflicts that are directly or indirectly linked to ethnicity in Nigeria.

It is evident from our experience in history that social eruptions and conflicts that border on ethnic or religious fault lines are better addressed through the instrument of dialogue instead of military or police action. There is no one-size-fits-all solution to such issues. In reality, experience has shown that they are better addressed via dialogue and reconciliation, as violence frequently leads to further violence.

As a fallout of our dialogue and reconciliation policy, hostilities between the bandits and Yansakai were immediately ceased. The state witnessed about nine months of peace; hundreds of kidnapped people were unconditionally released by their captives; hundreds of assorted arms and ammunition were surrendered by both the bandits and the Yansakai.

The state witnessed the rebirth of the glorious era of brotherhood, love and mutual coexistence between members of the Fulani ethnic group and the Hausas. For the first time, in more than a decade, the annual Sharu festival was held in Gusau in 2019.

The amazing successes of our peace efforts made our initiative appealing to some of the states sharing similar experiences as our state. Some of them opted for dialogue but eventually abandoned the programme after running into some issues.

However, things took a dramatic turn, with the issue given political colouration by a section of politicians. Some people saw our progress as a threat to their political survival and began making disparaging efforts to undermine our achievements. Those acts of sabotage were the beginning of the ugly turn of events.

The primary hurdles to our peace efforts, based on my experience over the last two years, are:

Reluctance on the part of the affected states to engage in peace talks, which would have denied the recalcitrant bandits who are currently making life difficult for our people a safe passage through the region; lack of support from a section of politicians and conflict entrepreneurs that wish to take advantage of the situation to achieve political ends; and the need for the Federal Government to key into the peace initiative so that appropriate resources can be allocated to make it more comprehensive.

My good people of Zamfara state, you are living witnesses to all our unwavering commitments to peace. I have had cause to meet with Mr President on matters relating to the state's security on several occasions.

I met the national security chiefs on numerous occasions. I have extended an olive branch to our political opponents in view of my conviction that attaining a lasting peace will require unity among all segments of society. Almost all my engagements outside the state are related to issues of security.

In taking my recent decision to move to the APC, my aim is to have an all-inclusive government where people with different political perspectives will put their hands together for the development of our dear state. I reached out to the notable political figures in the State and made known to them my desire to have a united front to confront and address the numerous issues of development affecting our state.

I have made several political offers to the opposition because I have no mission far crucial than that of securing our state. This I have done despite vehement objection by my political associates. My belief has always been no amount of sacrifice is too much for peace.

This is why I took myself to the doorsteps of some political stakeholders with the aim of uniting ourselves to form a formidable team to address the disturbing security challenge bedevilling our dear State in the spirit of forging unity for the benefit of our dear state.

Apart from our peace and reconciliation efforts and the recent political developments, we have equally maintained our obligations to our security forces through the provision of logistical and all other supports they require to discharge their function.

We had an expanded Security Council meeting last Monday in furtherance of our steadfast efforts to confront this persistent challenge. The meeting was attended by all security chiefs, emirs, and the ulamas. I commend all of them for positively and sincerely offering their advice on how best to tackle the problems at hand.

We reviewed the effectiveness or otherwise of the current security measures aimed at containing the security challenge and received reports from members. Some of the observations and resolutions of the meeting that we can share with the public are:

The security agencies have given their assurances to the general public of commitment to protecting lives and property across the State, as well as their readiness for rapid and prompt response to distress calls;

The general public should therefore continue to cooperate and support the security forces to achieve the desired objective. We should appreciate the monumental sacrifices by our security agents and encourage them to work harder;

Security is everyone's responsibility, People should, therefore, be vigilant and report any suspicious character to the appropriate authorities;

Islamic scholars are called upon to intensify sermons and preaching on issues bordering on security, sanctity and inviolability of human life;

The conventional and new media practitioners should play a positive role in promoting peace and harmony and desist from disseminating unconfirmed and inciting reports that may jeopardise public security;

Politicians should join ranks and work in unison towards combatting the security challenge;

Apart from the measures outlined, the meeting has also agreed to take further tactical measures to effectively contain the challenging situation across the State.

My dear people of Zamfara State, I would like to use this opportunity to call on all of us to remain fervently prayerful for peace to reign in our State and the nation in general. We should ask Allah for forgiveness and His divine intervention.

Once again, I wish to extend my deep sympathy to those who sustained various degrees of injuries those recuperating in hospitals and at home. I wish them speedy recovery and good health. Government will continue to give them all medical and other necessary support.

I reassure you that we are doing everything humanly possible to address this lingering challenge.

I thank you all.

Wassalamu Alaikum