Nigeria Reports Two More COVID-19 Deaths, 385 Fresh Infections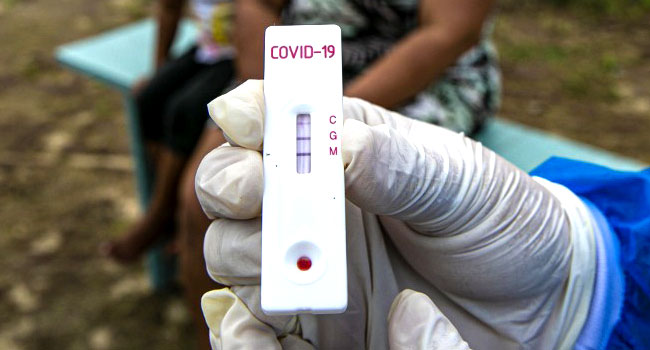 As Nigerian authorities battle the current wave of the COVID-19 pandemic, two more people died of complications relating to the disease on Monday.
The Nigeria Centre for Disease Control (NCDC) disclosed this in a Facebook post on Tuesday while giving an update on the outbreak of the disease in the country.
It noted that 385 new infections were confirmed in 11 states and the Federal Capital Territory (FCT), saying the nation's capital reported 116.
Others are Delta – 115, Akwa Ibom – 41, Ogun – 33, Cross River – 23, Edo – 23, Kaduna – 10, Rivers – seven, Plateau – five, Bayelsa – five, Oyo – five, and Kano – two.
READ ALSO: One Million Expired AstraZeneca Vaccines Set To Be Destroyed – NPHCDA
This brings the total number of confirmed cases in the country to 217,866 since the first COVID-19 case was reported in late February 2020.
Of the confirmed cases, 210,076 people have been discharged while 2,983 others have died from complications relating to the disease.
As of 9am on Friday, the NCDC said it has collected and tested a total of 3,686,403 samples for COVID-19.
According to the agency, the 116 cases reported in the FCT are for Sunday (17) and Monday (97) while the 115 cases reported for Delta are backlogs from October (31) and November (61), as well as December 7th (4), 8th (6), 9th (5), 10th (2), and 12th (6).
See the breakdown of cases by states below:
| States Affected | No. of Cases (Lab Confirmed) | No. of Cases (on admission) | No. Discharged | No. of Deaths |
| --- | --- | --- | --- | --- |
| Lagos | 80,599 | 890 | 78,953 | 756 |
| FCT | 23,895 | 383 | 23,288 | 224 |
| Rivers | 13,076 | 123 | 12,799 | 154 |
| Kaduna | 10,198 | 70 | 10,047 | 81 |
| Plateau | 10,007 | 58 | 9,876 | 73 |
| Oyo | 8,870 | 94 | 8,585 | 191 |
| Edo | 6,692 | 84 | 6,328 | 280 |
| Ogun | 5,450 | 74 | 5,296 | 80 |
| Ondo | 4,591 | 18 | 4,475 | 98 |
| Kano | 4,450 | 37 | 4,291 | 122 |
| Akwa Ibom | 4,389 | -213 | 4,558 | 44 |
| Delta | 4,294 | 1,628 | 2,556 | 110 |
| Kwara | 4,004 | 231 | 3,709 | 64 |
| Osun | 3,036 | 13 | 2,937 | 86 |
| Enugu | 2,815 | 11 | 2,775 | 29 |
| Gombe | 2,757 | 28 | 2,669 | 60 |
| Nasarawa | 2,517 | 133 | 2,345 | 39 |
| Anambra | 2,405 | 0 | 2,386 | 19 |
| Katsina | 2,360 | 71 | 2,252 | 37 |
| Imo | 2,265 | 233 | 1,991 | 41 |
| Ebonyi | 2,062 | 26 | 2,004 | 32 |
| Abia | 2,044 | 11 | 2,002 | 31 |
| Benue | 1,907 | 370 | 1,512 | 25 |
| Bauchi | 1,817 | 18 | 1,776 | 23 |
| Ekiti | 1,787 | 17 | 1,742 | 28 |
| Borno | 1,356 | 12 | 1,306 | 38 |
| Taraba | 1,269 | 15 | 1,222 | 32 |
| Bayelsa | 1,261 | 17 | 1,216 | 28 |
| Adamawa | 1,157 | 27 | 1,098 | 32 |
| Niger | 1,073 | 55 | 998 | 20 |
| Sokoto | 810 | 0 | 782 | 28 |
| Cross River | 690 | 23 | 642 | 25 |
| Jigawa | 619 | 2 | 600 | 17 |
| Yobe | 502 | 3 | 490 | 9 |
| Kebbi | 470 | 0 | 454 | 16 |
| Zamfara | 367 | 4 | 354 | 9 |
| Kogi | 5 | 0 | 3 | 2 |