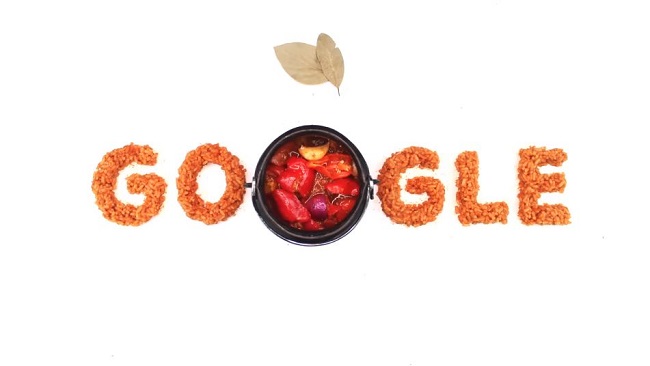 Google is dedicating today to celebrating jollof rice.
To celebrate jollof rice, the word "Google" was spelled using the dish and with condiments and add-ons that often go with it. A click on the doodle opens up a video highlighting the major ingredients for the dish.
Jollof rice is one of the most popular foods in West Africa, although the ingredients and methods of preparation vary from location to region, the dish is often made in a single pot with rice, tomatoes, onions, spices, vegetables, and meat.
Especially prominent in the statement is the rivalry between Nigeria and Ghana dubbed the "Jollof Wars". The major differences between the "jollofs" are also stated.
"On this day each year, rice farmers plant and reap a bountiful harvest, and cooks across West Africa prepare to make fresh Jollof," Google said in a statement.
"Jollof rice is a one-pot meal that originated from the Wolof tribe in the 14th century.
"The Wolof Empire, ruling parts of modern-day Senegal, The Gambia, and Mauritania, popularized Jollof throughout West Africa. "
Each West African country has at least one variant form of the dish, with Ghana, Nigeria, Sierra Leone, Liberia, and Cameroon particularly competitive as to which country makes the best Jollof rice.
The Google doodle which was created with stop-motion animation of food, unpacks one of the world's great dishes, with its ingredients dancing to a tune.
Nigerian artist Haneefah Adam created the artwork and Senegalese jazz musician, Hervé Samb, created the soundtrack.
Haneefah Adam said she approached the doodle as "a celebration of culture—not just my culture, but of everyone who recognizes food as a conduit. The diversity of how we approach food is really interesting—like how the preparation of Jollof is different in Nigeria vs. Senegal (they even have different names). This just goes to show the richness and beauty of our collective culture as a continent."
"It's been a privilege to shine a light on this aspect of my culture with food and I hope to be able to continue to share beautiful stories out of Nigeria."