UN Secretary-General Antonio Guterres called for crucial COP28 talks in Dubai to outline "dramatic climate action," warning that "we're out of road" on global warming.
The UN chief issued his rallying call as the global body warned in a new report that countries' greenhouse gas-cutting pledges put Earth on track for warming far beyond key limits — possibly up to a catastrophic 2.9 degrees Celsius this century.
"Leaders can't kick the can any further," Guterres said.
"Present trends are racing our planet down a dead-end three-degree temperature rise. In short, the report shows that the emissions gap is more like an emissions canyon. A canyon littered with broken promises, broken lives, and broken records," he continued.
"All of this is a failure of leadership, a betrayal of the vulnerable, and a massive missed opportunity."
READ ALSO: At Least 21 Dead In Torrential Dominican Republic Rains
Columns of smoke, pictured from the village of Guimar, on August 17, 2023, billow from a huge wildfire which broke out almost two days ago and is raging in the northeastern part of the Canary island of Tenerife. The 2023 United Nations Climate Change Conference COP28 will be held from November 30 to December 12, 2023, in Dubai. (Photo by DESIREE MARTIN / AFP)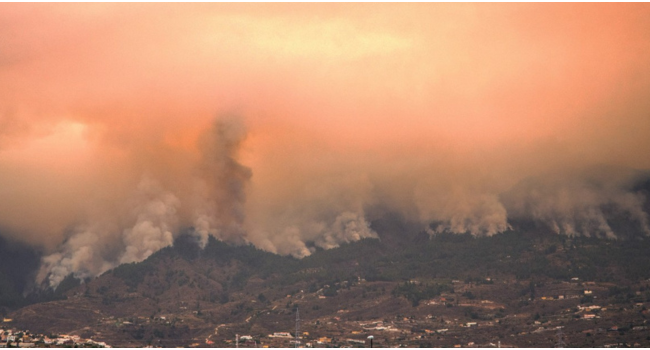 The response must "light the fuse to an explosion of ambition in 2025," he said.
"That means national plans with clear 2030 and 2035 targets, that align with 1.5 degrees, that cover the whole economy, and that plot a course for ending fossil fuels."
Taking into account countries' carbon-cutting plans, the UN warned Monday that the planet is on a path for disastrous heating of between 2.5C and 2.9C by 2100. Based just on existing policies and emissions-cutting efforts, global warming would reach 3C.
But the world continues to pump record levels of greenhouse gases into the atmosphere, with emissions up 1.2 per cent from 2021 to 2022, the UN Environment Programme said, adding that the increase was largely driven by the burning of fossil fuels and industrial processes.
COP28 climate talks begin later this month in Dubai.
AFP