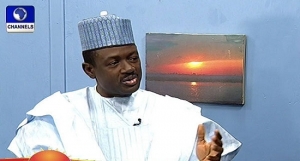 Former Minister of Information Labaran Maku, has called on Journalists in Nasarawa state to imbibe the spirit of investigative Journalism.
He believes that investigative reporting is the only solution that relieves the people from the clutches of misrule.
The state governorship candidate of the All Progressive Grand Alliance (APGA) challenged the press to exhibit the courage and habit of rural Journalism instead of focusing on issues that has to do with the government alone.
"Investigative reporting is the only tool that can keep those in the helms of affairs on their toes; this will help people at the grassroots whom have been excised from day to day livelihood" he said.
"Investigative journalism will help the citizenry to know what came in and what goes out of the state" Maku stressed.
Furthermore, he expressed displeasure with the way reporters give prominence to government activities.
"Move to the grassroots and report activities there, do not give priority to government activities and proclamations alone"
He also tasked the press to create awareness in the cause of their reportage, stating that scores of communities are disconnected from government presence.