Inter Milan makes £19m bid for Chelsea target, Lucas Moura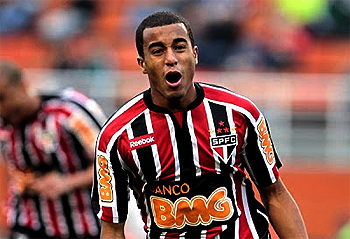 Inter Milan clearly made their intention known to the football world after the club threw in a bid of £19m for the signature of  Chelsea target Lucas Moura who plays for Brazilian club Sao Paulo making the Italian club the first to make a move after Chelsea.
The young lad who has already been hinted by Sao Paulo that he will be starting the new season with an European club is still in waiting for his big move as Inter Milan's bid was rejected by Sao Paulo.
As reported, the new European Champions are very keen on the Brazilian attacker but have not had time to come to the negotiating table with Sao Paulo as the London club is busy sealing up their new talent signed for £32m; Eden Hazard whose move was tied to English Premier League Winners; Manchester City but was whisked away by Chelsea with a bank-breaking amount.
They are expected to officially announce the signing of Hazard by the weekend, with Lucas still on their radar.
Sao Paulo says they will be willing to part with the 19-year-old for an amount closer to £30m.
However, Inter Milan has not given up on clinching the vibrant attacker's signature as they have tagged themselves as favourites to land a deal with the exciting Brazilian, despite the fact that Lucas had already been tagged with a move to Stamford Bridge.