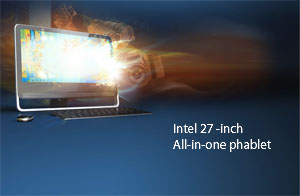 It was called a developers' conference by Intel and it was hosted in San Francisco little did the computer world know that it was about to be bombarded with a new invention by the chip-making company as it was used as a medium to unveil a desktop computer prototype that has a display that can double as a 27-inch tablet with a four-hour battery life.
Slate producers like Samsung, with its Galaxy Note II, and Apple, with its expected iPad Mini, are down-sizing the tablet's classic 10-inch form factor. But Intel must think that there's room to push the form at the other end of things.
Called the Adaptive All-In-One, the 2.5-inch thick unit has 1080p HD resolution and has the guts of a personal computer, including optical drive, input/output ports and high-performance graphics processor. On the desktop, it plugs into a dock that charges its battery and connects it to peripherals such as a keyboard and mouse. Its touchscreen can be used both on and off the dock.
The display panel weighs 14 pounds. That may have been portable in the days of the Osborne I, but it's not very portable by today's standards. Intel recognizes that deficiency and is working with screen and battery manufacturers to slim down the units.
All-In-One computers aren't anything new, and in recent times they've been gaining popularity. Apple has been flogging the form for years with its iMac line and just this week HP introduced a slick new addition to the category, the SpectreONE.
Some tablet makers have also dipped their toes in the detachable screen waters. For example, Asus' Transformer tablet line has a dock that transforms the slates into a mini-laptop.
With ideas like the Adaptive All-In-One, Intel hopes to pump some excitement into a PC market that seems to get more moribund with each passing quarter. For the quarter ending in June, for instance, Gartner reported that PC shipments declined 5.7 per cent. IDC's estimates for the period were even worse: a 10.6 per cent drop.
The traditional desktop is a box that's beige, black, or brown and most likely it's under the desk but now, the adaptive all-in-one in terms of design will surely change the way that people interact with their desktop PCs.