Unidentified Gunmen Kill Eight In Borno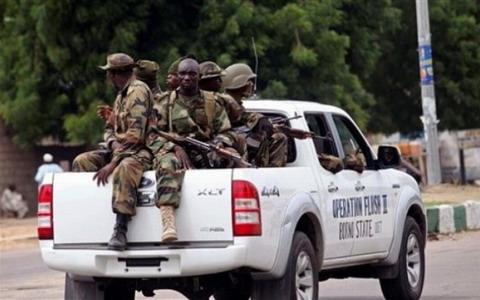 The Joint Military Task Force (JTF) in Borno State has confirmed the killing of eight persons by unknown persons in Gajigana Town over the weekend.
Spokesman of the JTF Lt. Col. Sagir Musa said that the attack occurred Sunday in the village of Gajiganna, but declined to comment on the manner in which the people were killed, saying only that "lives were lost."
There were conflicting reports from the area, with some saying certain victims were shot and others had their throats slit, while others spoke of all eight with their throats slit.
"I saw eight bodies afterwards – three of young men, and another five who were heads of households" A resident Modu Bukar told Reuters, adding that he did not know who was behind it. "The burial is today." he added.
Gajiganna is about 50 kilo metres from Maiduguri, the state capital. No one has claimed responsibility for the attack.