To unveil the top 12 contestants of the Nigerian Idol music competition, organisers of the show on Saturday, staged an event titled Night Of Love Songs at the Civic Centre, Victoria Island, Lagos.
For the first time, the contestants performed together alongside celebrity guests performers Lynxxx, Tiwa Savage and season 2 winner Mercy Chinwo.
The event which was hosted by Ill Rhymz featured food, fun and fanfare.
The talented singers showed off their spectacular vocals and the gathered audience that included celebrities like singer Nneka, Michelle Dede, Lala Akindoju, OC Ukeje, Toke Makinwa and more, alongside the judges of the show, Femi Kuti, Yinka Davies and Jeffrey Daniel.
"We know we have got the best talent we can find," said Rotimi Pedro, Group Managing Director of the show's production company Optima Media Group (OMG).
The CEO of Etisalat Nigeria, Steven Evans, who was also effusive about his praise for the show said, "You need to watch. [The contestants] are all hungry to be the third Nigerian Idol…The quality of talent is bigger, brighter and better."
The performances were the crowning jewel of the evening, starting off with Lynxxx, who, with the help of the live band, seduced the crowd with a knock out live performance. Tiwa Savage sang a touching tribute to late singer and performer Goldie Harvey, before she performed some of her most loved hits.
And then came the most exciting part of the evening: the twelve successful season 3 competitors were unveiled. Singing 'No One Like You' by P-Square, the talented group were luminous as they made their stage debut.
That was not all for the evening, as the contestants then formed more intimate groups and sang again. Immaculate Victoria, Abasiakan, Joe Emmal, and Kome sang 'A Whole New World', from the Walt Disney animation, 'Aladdin'.
Then Jay Feel, Danny Angus, Debbie Rise and Amara performed 'Oyi (I Dey Catch Cold)' by Flavour. Moses, Efezino, Vicci and Sefeeyat were the last to perform for the evening, singing George Benson's 'Nothing's Gonna Change My Love for You'.
The night was brought to an explosive end as Season 2 winner, Mercy Chinwo, brought the house to its feet and started an impromptu party with her infectious vocals.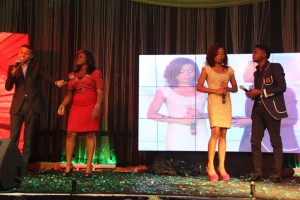 Now, the contestants have been unveiled and have had their first top 12 performances, which aired on Sunday, 17 February. Who will be the first two contestants Nigeria will choose to evict from the show?
The top prize for this season is worth a superb $100,000, in which the lucky winner will get: 7.5 million naira in cash, a recording contract also worth 7.5 million naira, and a brand new SUV.
Runners-up will not be left out as they will be given prizes to the tune of N10 million.