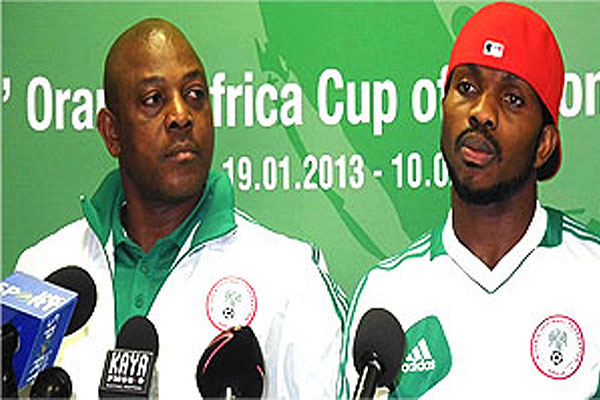 Nigeria's football management body, the Nigeria Football Federation (NFF) has backed former Super Eagles captain and now Super Eagles head coach, Stephen Keshi over team selection despite the loud protest by the team captain Joseph Yobo.
Yobo was very livid to learn that he was left out of the selection that will be facing the Harambee Stars of Kenya for the World cup qualification clash in Calabar last month.
Several other big players of the Super Eagles criticized Keshi's act but Yobo who was definitely embittered was of the loudest as he openly criticized Keshi for leaving him out of the team after their victorious return from South Africa as the Super Eagles were crowned the African champions.
One official of the NFF said Stephen Keshi will always get the support of the federation as they have already resolved earlier to give him their support and allow him a free hand.
"We appointed Keshi for the Super Eagles job and we have resolved to give him a free hand to pick the players he deems fit to prosecute matches and thus far his selections have produced results,".
According to an executive member of the NFF; Chris Green, there are several issues which is in the top drawer of the federation which has be addressed and be addressed in good time too, because it is in the interest of the federation to promote peace in the team for without peace the sole purpose of having a coach to steer the team is defeated.
Green made mention of the Yobo vs Keshi, Osaze and Keshi, Emmanuel Emenike, Danny Shittu issues as part of the issues to be addressed in meeting in Abuja.
"We are going to look at the issues objectively. A coach is a coach and is in charge of the team and can decide the players who could best play a game for him."
"However, when players begin to complain and senior players for that matter, there is need for us to mediate because the team can only achieve more when they are united.
"Our concern is not to fan the ego of anyone, but for peace to reign in the Eagles. We appointed Keshi for this job and we believe in his ability, therefore we must do everything to make sure his job is easy and void of whatever distraction,"
It would be recalled that Joseph Yobo didn't feature in most of the matches that Nigeria played during the Afcon 2013 in South Africa due to injury.
However, the captain who returned to his club and started playing immediately stated that he is not down with injury as he has been active for his Turkish club since the Nations cup, knocking off the issue of injury being responsible for being excluded from the Super Eagles call-up.