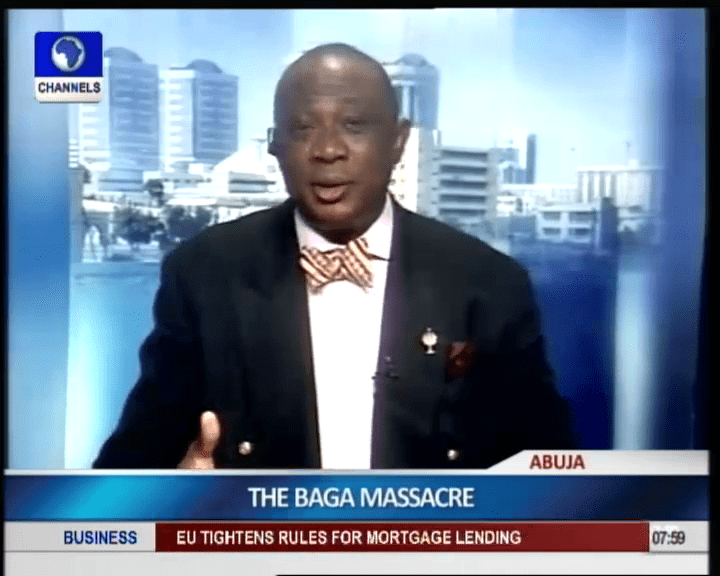 A strategic security consultant, Max Gbanite today absolved the military of blame in the deaths that occurred in Baga Town in the northeastern state of Borno, a hub of the Boko Haram operations.
Gbanite said citizens of the razed town had complained to the Multi-National Joint Task Force (MNJTF), comprising of soldiers from Nigeria, Niger, Chad and Cameroon, of the influx and storage of sophisticated weapons in the town.
Acting on the complaints, the soldiers embarked on a fact finding mission in the town when they "ambushed" by the insurgents
Gbanite, who spoke as an analyst on Channels Television's flagship breakfast show Sunrise Daily, said "The people of Baga , who are peace loving, complained to the Multi-National Joint Task Force about ammunition storage(s), RPGs in their neighbourhood and various forms of mortar and grenades and the MNJTF went in to investigate and find out what is happening and they were ambushed from different angles of the town by these insurgents".
Gbanite, speaking further said "The training of a soldier…Please…… is to respond with equal kinetic power. And you cannot shoot a human being and hide behind a child or a mosque and not expect collateral damage".
He also admonished media outfits to work with figures released by the federal government and the army authorities instead of reporting conflicting figures.
He blamed the insurgency on the lack of constituency projects in the area and sympathized with the representatives of the people of Baga in the National Assembly.
On the damaged homes, cars, motorcycles and other valuables as mentioned by the Senator Maina Lawan, Gbanaite believed that "It is possible that when the MNJTF responded to attacks there were incendiary incidents where these munitions were stored and there were collateral explosions that allowed the thatch houses to catch fire".
He likened the deaths that occurred in Baga to  deaths of refugees whose camp was used to bring down American fighter jets by Iraqi soldiers. He said the Americans retaliated and "innocent refugees lost their lives".