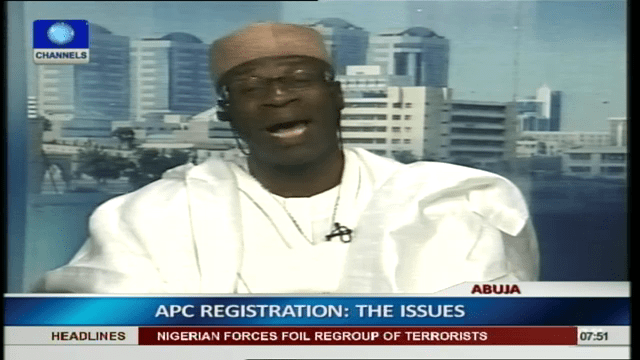 Former CPC spokesman, Rotimi Fashakin, has said that challenges the newly registered All Progressive's Congress (APC) is likely to face are 'infinitesimal' compared to the hurdles it has had to surmount in its quest to become a registered political group in Nigeria.
Speaking on Channels Television's Sunrise Daily, he said that what the party means by calling itself an alternative is that it is coming on board "with a view to right the wrong" made by the People's Democratic Party (PDP).
In a counter response to comments made by Professor Femi Otubanjo, he said the pundit has a 'compartmentalised view of ideology which tends to "concept of socialism and capitalism".
"The world has moved away from that," he said.
Professor Otubanjo had stated that "the APC is not an alternative" but "it's just a different party" because it is not offering an 'ideological alternative' different from that of the ruling PDP.
Mr Fashakin, in his reply said the "PDP's rule over Nigeria has been a scourge on the Nigerian people".
"So when we say we are an alternative to PDP, we know what we are talking about," he said.
Reacting to Professor Otubanjo's prediction that the APC will soon encounter problems of dissatisfaction by members, Mr Fashakin said that registration is to commence in earnest.
There is no group registration and everybody is coming at 'equi' (the same) potential, he said, adding that the bulk of Nigerians that would be in the APC would be enough to push PDP out of power.
There would be challenges of being big but "the impediments that are ahead are too infinitesimal compared to those that we had surmounted in the past, in the course of our coming together as a political party," he said.
He revealed that a new group called "APC progressive governors", made up of 11 governors under the umbrella of the merger, has been formed.