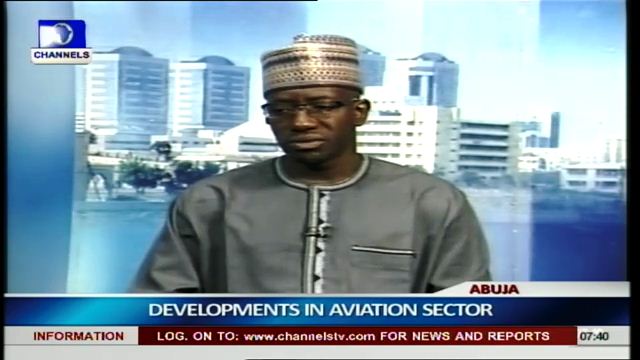 The National Assembly Chairman House Committee on Media and Publicity, Zakari Mohamed has countered claims by the NCAA that the alleged purchase of armoured vehicles for the Aviation minister was approved by the House of Reps.
While speaking from the Channels TV Abuja studio as a guest on Sunrise Daily, Mr Mohamed who is also a member of the aviation committee, stated categorically:
"I want to say clearly for the records, I am a member of the aviation committee and I partook in the budget defence of 2013 and I remember that there was a defence (during which) NCAA in its budget this thing was brought.
They said 'purchase of security and armoured vehicles', it was a lengthy debate and we rejected it, we turned it down and said gentlemen we will not as a body approve this and of course you need to take it back".
Speaking further he said "they took it back and came back with 'used utility vehicles'. When they brought utility vehicles we said yes that is not enough, itemise the utility vehicles. Hiluxes, Corrollas were stated there for the use of the NCAA in their operations".
And we said ok, we will now be guided by this since we have the items and we have the monies being attached on it, we will approve and we approved. So if somebody comes to begin to tell Nigerians that we approved, then I think we need to make things very clear that what we approved were operational vehicles which were stated in black and white – the number, the prices".
He further shed light on how the appropriation act works; stating that if the parliament approves the purchase of any item and it is appropriated in the budget, then at the time of purchase the buyer decides to use the money approved to purchase other items not originally stated, such persons or organisations have flouted the appropriation act.
He claimed that if such purchases would have to be done, "you will have to come back to the parliament … but in this case what we approved was 'operational vehicles' and there was no occasion, (I can remember vividly) when they brought back their budget to the house and instead of utility vehicles changed it to armoured or security vehicles. We didn't veer, and the only statutory body that is empowered to veer monies; move it from one subhead to the other is the |National Assembly"
When asked to verify other processes involved in such purchases which the NCAA claimed to have passed through, he promised that series of meetings have been scheduled to immediately look into the claim. He stated that the committee will invite a cross section of people who should have the details including the due process office as he would prefer to be guided by facts.
He urged Nigerians to be patient as a committee is already in place to work on this and their findings and recommendations will be out within 1 week.
He added that flouting the appropriation act carries a minimum jail term of 2 years.