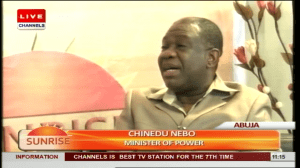 The Minister of Power, Professor Chinedu Nebo has expressed hope that Nigerians would experience electricity supply which he described as 'very close to uninterrupted.'
He also asserted that the privitisation process, which was made official on Friday, would deliver at least 10000 megawatts of power to the nation by the end of 2014.
"It is very conceivable that by the end of 2014, most of the people connected to power in Nigeria at the moment, will experience very close to uninterrupted power supply."
Speaking about the recent developments in the sector, Professor Nebo praised the Goodluck Jonathan's administration for finally taking a huge step in a direction which would alleviate the power problem.
"Government has done so much. In fact, no government has taken the bull by the horn the way the Federal Government has done," he emphasised.
Speaking on the issue of the Power Holding Company of Nigeria (PHCN) workers, he said that the government had gone so far in trying to meet the needs of the unions of the power sector.
"Over 40 thousand workers have all payments credited but some are yet to receive their alerts because banks have delayed," he explained.
Pensions of over 26, 000 have been credited to PENCOM who has to verify the existence of account owners before it notifies them.
"The process is made so in order to sieve out ghost workers who may want to benefit from the monies given away," the minsters stated.
In spite of the fact that majority have been paid, PHCN workers have been demanding that the process be completed, out of fear that the government could renege on complete payment.
He decried the years of gross neglect in the sector during which "the generating facilities, transmission and distribution facilities were neglected.
"For the past 17 years, there was no capacity building. No engineers were hired; no technical people were hired in the so called Power Holding Company of Nigeria that metamorphosed from NEPA."
He added that some of the technicians are aged and can no longer climb poles.
He stated that the process of reviving the power sector began in 1999 at the beginning of civilian rule, adding that, "much more has happened since President Goodluck Ebele Jonthan took over in 2010.
Things have been so structured, things are moving fast and instead of just walking or running, we are leap-frogging to get to the ultimate destination."