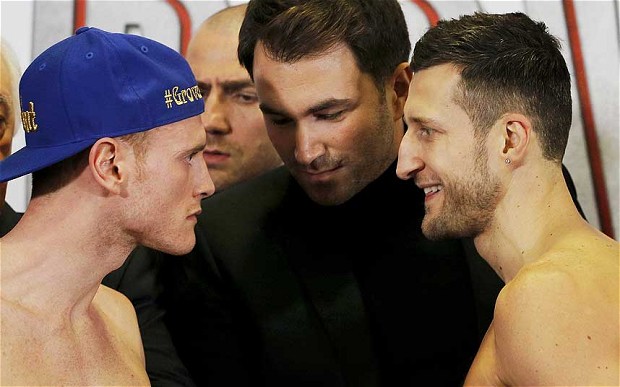 Boxing promoters have announced that 60,000 tickets have been sold in one hour for the mandatory re-match at Wembley Stadium between WBA and IBF super-middleweight champion Carl Froch and challenger George Groves.
The announcement was made on Monday at a joint news conference and photo session at the stadium, with Groves and the promoters saying they want non-British officials at the fight.
The two boxers first clashed at the Manchester Arena in November when Groves was controversially stopped by 36-year-old Froch in the ninth of 12 scheduled rounds. Groves had floored Froch in the opening round and was ahead on the judges' cards when referee Howard Foster stepped in.
The International Boxing Federation has ordered the re-match, at which Groves and the promoters hope the British Boxing Board of Control will appoint non-British officials.
At the press briefing, Groves told the media: "Carl Froch has been mandated; he now has to fight; a fight he doesn't want to take; a fight that he knows he can't possibly win. It was a stonewall robbery the first time; everyone knows it. The IBF knows it, that's why they reinstated me as mandatory with an immediate re-match that is now taking place".
Champion Froch took a break after the previous fight and said on Monday: "You know, I've missed the gym, I've missed boxing. I've missed hitting the bag, I've missed listening to Rob (McCracken trainer) and you know, working hard on, on the road runs and that's, that's bad news for George Groves, because I'm now excited and looking forward to getting back in the gym and getting in the ring on May 31 and doing the business."
The Froch vs Groves fight is scheduled for May 31.