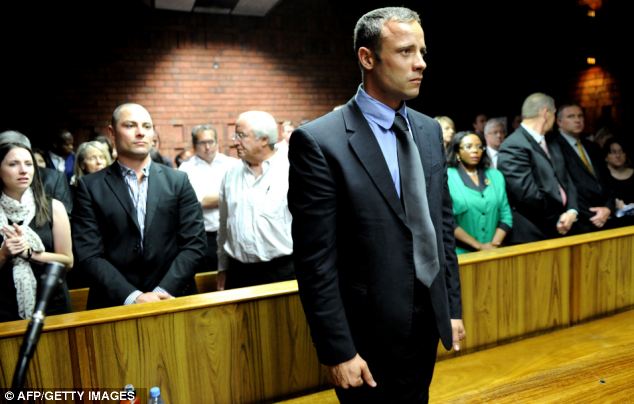 Oscar Pistorius was back in court for another grueling day of cross-examination.
The athlete told his murder trial that his girlfriend, Reeva Steenkamp, did not scream or shout as he grabbed a gun and fired shots that killed her.
Prosecutor Gerrie Nel said that it was "improbable" that she would stand in the bathroom saying nothing while Mr Pistorius was just 3 metres away shouting at her to call the Police.
On the third day of his cross examination, Pistorius, again broke down in court as he came under tough cross-examination over specific details leading up to the shooting.
The athlete said that after he shot Steenkamp, he ran out onto the balcony and screamed for help. However, in a picture shown to the court, a duvet and a large stand-up electrical fan clearly block his route to the balcony door.
Mr Pistorius said that he could not explain but reiterated that no woman screamed.
State prosecutor Gerrie Nel, nickamed "Pitbull", countered with accusations that Pistorius was lying: "That's because it never happened. That's why you can't remember it," he said.
"Yes, I'm very emotional…because it's a difficult time for me to remember, this is the night I lost the person that I cared about… I don't know how people don't understand it", Pistorius said
Judge Thokozile Masipa called a brief adjournment after Pistorius got increasingly emotional, eventually breaking down in audible sobs.
Pistorius, known as 'Blade Runner' due to the prosthetics he wears on the track, says he shot Steenkamp in a tragic accident, firing at what he thought was an intruder hiding behind a toilet door in his luxury Pretoria home on February 14, 2013.
The double amputee sprinter faces life in prison if convicted in the Pretoria High Court of the murder of Steenkamp, a 29-year-old law graduate and model.