EFCC Charges: Court Dismisses Tukur's Application To Quash Charges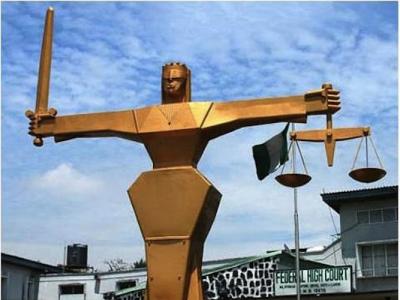 Justice Lawal Akapo of a Lagos High Court sitting in Ikeja, on Friday dismissed an application filed by Mahmud Tukur and Ochonogor Alex, seeking to quash charges preferred against them by the Economic and Financial Crimes Commission, EFCC.
The judge dismissed the application for lack of merit and abuse of court processes.
In his ruling, Justice Akapo upheld the prosecution's argument that "the issue of sufficiency of proof of evidence cannot be raised until the prosecution had closed its case". According to the judge, "this argument is vital and renders the application premature".
Earlier, the EFCC counsel, Rotimi Jacobs, had argued that the application to quash the charges against Tukur and Ochonogor was premature since the substantive suit was yet to be considered.
A statement signed by the Head Media and Publicity (EFCC), Wilson Uwujaren, said Tukur, Tayo Oyetibo, had argued that the charges preferred against the accused persons should not be entertained by the court because it was their company, Eterna Plc that committed the crime imputed to them.
However, Jacobs pointed out that the position of the law, on the issue, is that "a company on its own cannot commit a crime but must use human agents".
He further submitted that, the company, without the human agents, could  not answer to the alleged crime and the roles played by the accused persons were clearly stated in their statements.
He asked the court to "look at the statement of the first accused (Mahmud Tukur) who gave a vivid account of the transaction and how he signed for the monies paid into the account of the 4th defendant (Eterna Plc)".
Jacobs further submitted that Tukur's statement showed his involvement in the transaction that led to the charge. He added that the accused was involved in the day-to-day-running of the affairs of the company and that Ochonogor, as Director of Finance during this period, played major role in the importation and transfer of licence. "So, Tukur and Ochonogor are qualified to be charged together with Eterna Plc, as defined under the Criminal Code Law of Lagos State," he stated.
Justice Akapo ruled that: "The court cannot delve into the substantive suit at an interlocutory stage. I therefore find no merit in the application and it is accordingly dismissed".
He subsequently adjourned the matter to September 15, 22 and 25 for trial.
Mahmud Tukur, Alex Ochonogor, Abdullahi Alao and Eterna Plc were arraigned on a nine-count charge over an alleged 1.8 billion Naira subsidy scam.