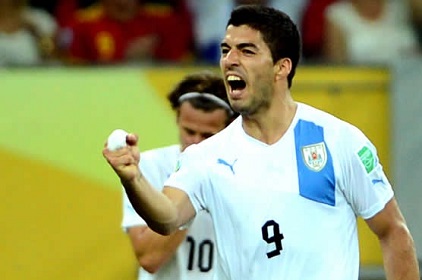 World football governing body, FIFA, have suspended Uruguay star, Luis Suarez, from all football-related activity for four months for biting Italy defender, Giorgio Chiellini, and have also being expelled from the World Cup.
Suarez flew back to Montevideo in disgrace last night after being told his participation in the ongoing 2014 World Cup was over following an unprecedented FIFA punishment.
The Liverpool striker was evicted from Uruguay's team hotel on Thursday as part of his immediate four-month ban, which would see him miss the opening 13 games for Liverpool next season as well as the next nine competitive Uruguayan international matches
The independent FIFA disciplinary committee, chaired by Claudio Sulser of Switzerland, reached the decision to hand Suarez a World Cup record ban after 10 hours of talks spread over Wednesday night and Thursday morning before it was announced at FIFA's daily briefing at the Maracana.
The committee took into account that this was the third time Suarez had bitten an opponent, the first, PSV Eindhoven's Otman Bakkal in 2010, for which he received a seven-match ban, and then Chelsea defender, Branislav Ivanovic in 2013, which he got a 10-game ban.
Sulser said: "Such behaviour cannot be tolerated and in particular not at a World Cup when the eyes of millions are on the stars on the field. The disciplinary committee took into account all the factors of the case and the degree of Mr Suarez's guilt in accordance with the relevant provisions of the code."
The player and the Uruguay FA had been informed minutes beforehand and the suspension starts with immediate effect.
The Uruguayan Football Association are preparing an appeal against the severity of the sentence, which they describe as an "excessive decision" for which "there was not enough evidence" and also includes a £64,000 fine. But there is no chance of Suarez appearing at Brazil 2014 again and his future at Liverpool is also plunged into uncertainty through the length of the suspension.
Uruguay FA President, Wilmar Valdez, said: "We are preparing our appeal to present to FIFA in the next few hours. It's an extremely excessive punishment, there was not enough evidence and I have seen more aggressive incidents.
"It feels like Uruguay has been thrown out of the World Cup. We all know what Suarez means to Uruguay and to football around the world. Luis will travel home to recover with his family."
FIFA's strict regulations,  barring him from any involvement in football means he cannot even watch Liverpool or Uruguay in action as he is banned from football stadiums and must train alone away from Liverpool's Melwood training ground.
Even in football exile, Suarez can be sold, which pundits thinks is a strong possibility, but cannot personally join in negotiations in mooted moves to Barcelona or Real Madrid.
The news was greeted with dismay by the Liverpool owners in Boston and the club are taking specialist legal advice before deciding what to do about Suarez.
Given the length of his ban, the Merseyside club, who have not been contacted by FIFA or the Uruguay FA, feel they are being punished for an offence they had no part in.
Chief Executive, Ian Ayre, said: "Liverpool Football Club will wait until we have seen and had time to review the FIFA disciplinary committee report before making any further comment."
Uruguay face Colombia in the last 16 on Saturday and Central defender, Jose Maria Gimenez, said that the team were "more united than ever", while the country's Sports Minister, Liliam Kechichian, commented: "We are hurt by this excessive sanction. Now let's see how we can help this human being and whether the group can show its class and its love for La Celeste."
Britain's FIFA Vice-President, Jim Boyce, said: "The punishment is fully justified. Hopefully he will realise now that behaviour of this type will not be tolerated."
Under the terms of the ban, Suarez cannot train with Liverpool and is prohibited from entering the confines of any stadium during the period of his suspension.
But Liverpool would not be prevented from selling the former Ajax player this summer should they decide to offload him to another club.