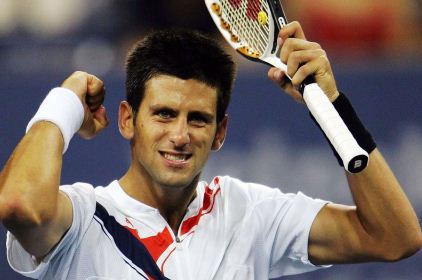 Novak Djokovic has beaten Roger Federer 6-7, 6-4, 7-6, 5-7, 6-4, to win his second Wimbledon title.
The game stated with both players being at each other's' throats and they managed to tie the first set 6-6, after Djokovic nets a forehand. Down to a tie-breaker and Federer, targeting his 8th Wimbledon won the tie-breaker 9-7 to take the first set.
Djokovic drew level after some blistering shots, although Federer did threaten to break in the last game but the Serb was assured of his range of strokes and took the game away from his senior rival, taking the second set 6-4.
Djokovic relied heavily on his forehand against Federer and after some relentless rallying, sealed the third set tie-breaker after a poor backhand from Federer to lead two sets to one.
After Djokovic took a mammoth 5-2 lead in the fourth set, Federer recorded a remarkable comeback, playing some sensational tennis as the Swiss steamed away to win the fourth set 7-5.
The World Number 2 went on to seal the victory with a 6-4 win in the final set, after some nervy display that saw him race away to a 15-30 lead, only to concede the game 4-4 to Federer after a tricky series of deuces.
Roger Federer was aiming to become the oldest Wimbledon champion in the Open era on Sunday as he targeted a record eighth All England Club title in his 35th career meeting with Novak Djokovic.
Federer, 32, won the first of his 17 majors at Wimbledon in 2003 and the most recent in 2012 but his failure to return to a Grand Slam final since has had his critics penning his career obituary.
The only time Federer and Djokovic met at a slam final was in the 2007 US Open, which Federer won.
Roger Federer and Novak Djokovic have now faced each other 35 times, with Federer still leading 18-17 against the Serb.