Jonathan's Loan Request Not To Fight Boko Haram Alone – NOA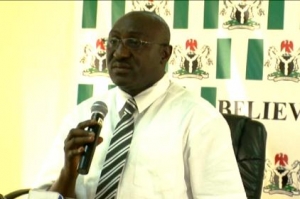 The National Information Centre have said that President Goodluck Jonathan's request for a loan of one billion  dollars is to enable the military tackle insurgency and other security challenges in the country.

The Coordinator of the centre, Mr Mike Omeri, who addressed journalists in Abuja on Thursday, said that the amount requested was not just to fight Boko Haram but would be used to address some financial needs in the Army.
"The loan being sought for is not just to prosecute the Boko Haram war" Omeri reiterated, "It is to reinforce the Army as the they have made a request because they have a need.
"So the funding is to ensure the long term provision of the requirement of the Armed Forces".
Omeri also said that the security operatives were still on the trail of Abubakar Tsiga, the suspected chief mastermind of Nyanya bombing which killed dozens in April.
President Jonathan had requested for immediate approval of one billion dollars external borrowing by the National Assembly to tackle insurgency and terrorism in Nigeria's northeast.
The President stressed that there was an urgent need to upgrade the equipment, training and logistic of the country's Armed Forces and Security services to enable them confront the serious threat posed by Boko Haram sect more forcefully and efficiently.