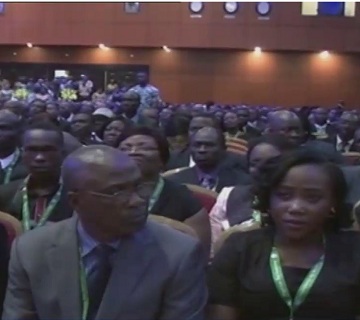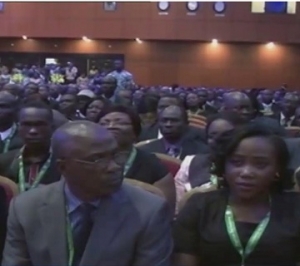 Nigerian Lawyers have been asked to ensure that issues relating to the electoral system and other meaningful issues that will uplift the nation should top talks at the 54th Nigerian Bar Association's annual conference holding in Imo State.
The governor of the state, Rochas Okorocha, in his address at the opening of the conference on Monday, said that discussing such relevant issues would help sustain the nation's democracy, even as the 2015 general elections draw nearer.
The conference holding in Owerri, the state's capital, had in attendance, the President of the Nigerian Bar Association (NBA), Okey Wali, the Attorney General of the Federation, Mohammed Adoke and the Governor of Delta State, Emmanuel Uduaghan.
The chairman of the occasion is a former Head of State, General Yakubu Gowon and also present were the Speaker of the House of Representatives, Aminu Tambuwal, his Deputy, Emeka Ihedioha and the Deputy Governor of Imo State, Prince Eze Madumere.
Over 10 thousand lawyers from across the country are attending the conference, with the theme, 'Nigeria; 100 years after'.
Before gaining access to the venue of the event, each participants had to be screened of the Ebola virus with the test kit.
The President of the NBA, Wali said that even though the efforts of the Federal Government and security operatives needed to be commended, they still need to do more in safeguarding the lives and property of Nigerians in the face of all the insecurity challenges.
He stressed that there should be concerted efforts by stakeholders to ensure free and fair election at all times as it was the only way good governance could thrive.
Mr Wali advised politicians to step up their game in ensuring that the nation's democracy gets to an enviable level.
While commending the Nigerian Bar Association for organising the conference, General Gowon lamented that 100 years after, Nigeria had not achieved its full potentials but expressed hopes that with the resolutions made in the just concluded national conference, the journey for a new Nigeria had commenced.
In his speech, the Speaker of the House of Representatives, Aminu Tambuwal, stressed that delivering good governance to the people was not to be negotiated.
He called on participants at the conference to ensure that at the end of the 5-day conference, issues that would be of great benefits to Nigerians and also promote the nation's democracy would be discussed.
This is the third time the Nigerian Bar association is hosting her annual conference in Imo State 1982, 1991 and 2014. The conference is expected to last for five days and on the last day, August 29, the present NBA President, Okey Wali, will officially hand over baton to the newly elected Bar Association's President, Augustine Alegeh.