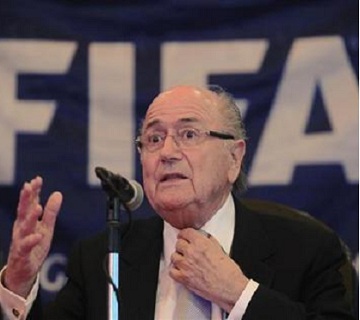 FIFA's President, Sepp Blatter, has confirmed he would stand for election for another term as head of the world football governing body.
Blatter, who has been widely expected to stand again for re -election despite saying otherwise in 2011, said that his mission at the Zurich based organisation was not finished in a video interview played at the Soccerex Conference in Manchester on Monday.
"You see a mission is never finished. And my mission is not finished," said Blatter.
"I got through the last congress in Sao Paulo not only the impression but the support of the majority, a huge majority of national associations asking 'Please go on, be our president also in future.'"
He said he would make an official announcement at FIFA's Executive Committee meeting between 25-26 September.
The Swiss football administrator, who expressed his profound delight at the success of Brazil 2014, as well as his gratitude to the Brazilian people for justifying his optimism that their love of the game would not let their socioeconomic protests spoil a great World Cup, promised to step up the fight against racism, with the imposition of punitive points deductions and expulsion from cup competitions.
He revealed that he would use the awarding of a women's tournament to Jordan as football's instrument in the campaign for female equality in the Arab world.
Blatter offers a rare, personal insight into himself as a football-loving man, as he admits how deeply hurt he was by allegations in an English newspaper which attempted to connect him to any wrong-doing.
His reminder to the world that he has been totally exonerated is passionately delivered, as is his assurance that the independent investigation being led by New York lawyer, Michael Garcia, would be completely transparent and honest.
He asked only that all such deliberations and any critical discussions are conducted with mutual respect, not the heated discourtesy which he sees as having reflected poorly on the game.
UEFA' President, Michel Platini, had said he would not be opposing Blatter.
The 59 year old France football legend stated early in the year that he would not support Blatter but insisted that he would not be contending with Blatter for FIFA's top seat, as he wants to concentrate on leading the European football governing body.