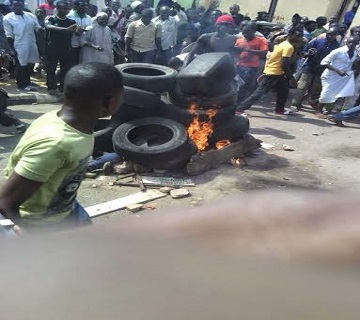 A man suspected to be a member of the Boko Haram sect has been lynched at the Central Motor Park in Gombe, the Gombe State capital on Wednesday, while attempting to blow up the area with a bomb.
Reports say the suspect, who was in possession of a black bag, was seen waiting suspiciously  to enter the state-run Gombe Transport Line.
Vigilantes in the area upon noticing his movement approached him and tried to make him open his black bag but he refused and instead detonated the bomb that was in his bag, injuring himself in the process.
An angry crowd immediately gathered around the man, piled tires on him, doused him with gasoline and burnt him to death.
This incident is coming barely three weeks after a triple bomb explosions at a bus station left scores of people dead in the north eastern city.
The Nigeria Police Force confirmed the death of seven persons the attack while the Nigeria Emergency Management Agency (NEMA) put the death toll at nine.
Hospital sources and eyewitness accounts, however, put the figure between 24 and 30 adding that about 37 people sustained injuries, during the blast which occurred at the Gombe Transport Services Limited Terminal in the State capital.