Niger Delta: Shell Pays Bodo £55 Million Over Oil Spills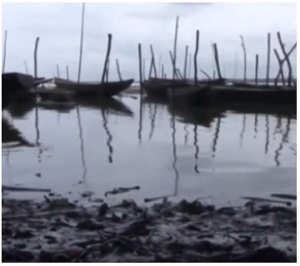 Oil giant,  Shell has made an out-of-court settlement to the tune of 55 million pounds to Bodo, Niger Delta,  for oil spills which led to the destruction of the community's livelihood, mainly fishing and farming.
The £55m will be split between £35m for 15,600 individuals and £20m for the community.
Two oil spills occurred at Bodo in the Niger Delta in 2008, the first in August and the second in December, after which Amnesty International and CEHRD gave backing to the community to secure compensation and clean up.
In 2011, the people of Bodo, represented by a UK law firm, began court proceedings in the UK against the Shell Petroleum Development Company of Nigeria.
"While the pay-out is a long awaited victory for the thousands of people who lost their livelihoods in Bodo, it shouldn't have taken six years to get anything close to fair compensation," said Audrey Gaughran, Director of Global Issues at Amnesty International.
Shell had initially admitted that the oil spills were the fault of failures on the company's pipeline at Bodo, but claimed that the volume of oil spilt was approximately 4,000 barrels for both spills combined.
However, In 2012 Amnesty International, using an independent assessment of video footage of the first oil spill, calculated that the total amount of oil split exceeded 100,000 barrels for this spill alone.
In the course of the legal battle, Shell admitted that its figures were wrong and it had underestimated the amount of oil spilt in both of the Bodo cases. It also noted that  it had been aware, at least since 2002, that most of its oil pipelines were old, and some sections contained "major risk and hazard".