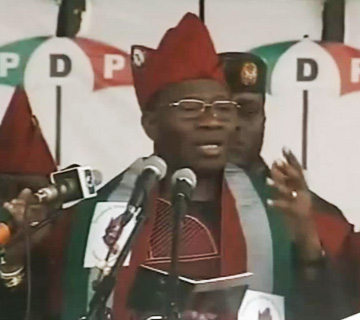 The Peoples Democratic Party (PDP) has taken its presidential campaign to Ibadan, the Oyo State capital.
Thousands of party members stormed Mapo area in the heart of the city to witness the rally.
Ibadan became the 4th city that the President's campaign train would be visiting and the event venue lived up to its name, being an area renowned for political activities during the days of the strong man of Ibadan politics, Lamidi Adedibu.
The party's presidential candidate, Dr. Goodluck Jonathan, arrived at about 1pm as the PDP once again wooed supporters from the south west zone ahead of the February 14 election.
He did not fail to recognise the fact that Oyo State has produced reputable leaders, both in the past and at present.
The President again gave assurances that the PDP would take care of the health of the citizens of the state, improve transportation by having a functional railway system and also improve the economy of the state.
President Goodluck Jonathan said that he was more committed to Nigerians than ever before, promising to involve even more women in governance.
President Jonathan also gave an assurance that he would tackle corruption with the use of advanced technology.
Although the opposition party, the APC has been in control of Oyo State, the party leaders who spoke at Mapo ground expressed confidence that taking over would not be a difficult task going by the successes achieved by the party at the federal level and its impact at the level of states.
The party leaders include the Director of the Campaign Organisation, Amodu Ali; PDP National Chairman, Adamu Mu'azu and the Minister of State for the FCT, Olajumoke Akinjide.
The campaign in Ibadan was one that would give the party a feeling of fulfillment as the leadership believes that having gotten massive support in the 2011 presidential election, the people of Oyo State would again give them the expected support in February.