Saudi King Abdullahi Dies At 90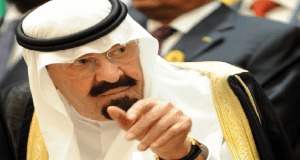 It's a sad day in Saudi Arabia as they mourn the death of their king, Abdullahi, who died on Friday.
Salman, his brother has now become king as stated by the royal court in the world's top oil exporter and birthplace of Islam said in an official statement.
Abdullahi, who is said to have been born 1924, had ruled Saudi Arabia as the king since 2005, but had run the country as de facto regent for a decade before his predecessor King Fahd suffered a debilitating stroke.
According to the state television, "His Highness Salman bin Abdulaziz Al Saud and all members of the family and the nation mourn the Custodian of the Two Holy Mosques King Abdullah bin Abdulaziz, who passed away at exactly 1a.m. this morning".
King Salman has named his half-brother Muqrin as heir to the throne, rapidly moving to forestall any fears of succession.
American President Barack Obama also expressed condolences and saluted the late king's commitment to close   ties saying, "As a leader, he was always candid and had the courage of his convictions," Obama said in a statement.
"One of those convictions was his steadfast and passionate belief in the importance of the U.S.-Saudi relationship as a force for stability and security in the Middle East and beyond."
In contrast, radical Sunni Islamist militants who want the kingdom's destruction rejoiced on Twitter and on hardline online forums, with some praying that God make the death of a man they see as a "tyrant" the beginning of the end for Saudi Arabia.
Abdullah pushed cautious changes in the conservative Islamic kingdom including increased women's rights and economic deregulation, but made no moves towards democracy.
According to Jamal Khashoggi, the head of a news station owned by Saudi's prince, Salam will continue with Abdullah's reforms. He also added that King Abdullahi was not conservative in person, but he values the opinion of the conservative constituency of the country.