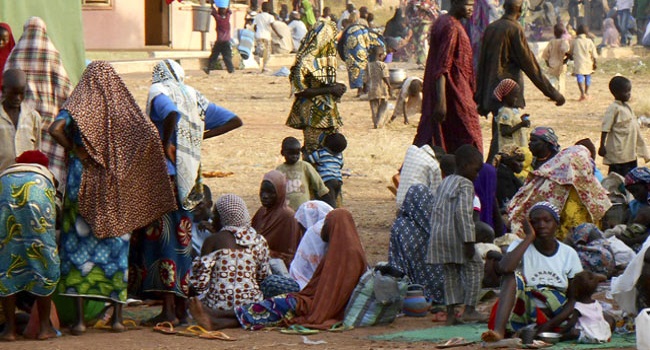 Internally Displaced Persons (IDPs) from over 100 communities in Nasarawa State have received relief materials worth over 150 million Naira, as part of their re-settlement package from the state government.
Thousands of Nasarawa indigenes fled their native homes following months of violence in 2014, that left hundreds dead and properties worth millions of Naira destroyed by assailants.
The relief materials, comprising of building materials, food, and beddings, were on Friday presented to the representatives of IDPs from the various communal crisis across the state in 2015 by the Governor.
The Governor also released Hilux vans for each of the 10 newly created re-settlement and security centres in areas considered too prone to violence.
The year 2014 will remain memorable in the heart of many indigenes of Nasarawa State who lost relations, property and local economy to ethnic violence across hundred villages in the state.
Governor Al-makura flagged off the distribution of the relief materials, asking the IDPs to take solace in the fact that they are alive to rebuild after the crisis.
One of the displaced persons, Ibrahim Arykia noted that life had been difficult relying on charity and goodwill.
Some of the traditional rulers, whose palaces were burnt down along with the houses of their subjects, said they had become residents of neighbouring chiefdoms where they have been taking refuge.
One of them was the Emir of Daddare, Balarabe Mohammed.
Allaying fears that the relief materials will not get to the actual IDPs due to unscrupulous activities in the distribution chain, the Executive Secretary of the Nasarawa State Emergency Management Agency, NASEMA, Abdullahi Idris, assured the people that the process would be carried out properly.
The IDPs had expressed fears that they may not take part in the elections, but Governor Al-makura said arrangements had been made to accommodate them in the electoral process. He however, said that their safety was the topmost priority for the state government.
The IDPs also confirmed to Channels Television correspondent in Lafia, that they were able to pick up the Permanent Voter Cards and would actively vote at the polls.