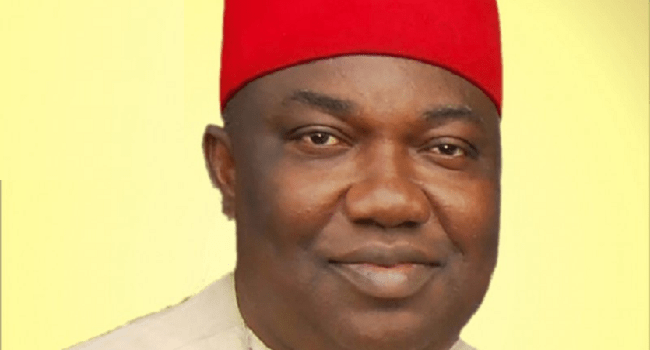 A Federal High Court in Abuja has dismissed a suit filed by Senator Anyogu Eze, challenging the nomination of Honourable Ifeanyi Ugwuanyi, as the  governorship candidate of the Peoples Democratic Party (PDP) in Enugu State.
Senator Eze had asked the court to hold that a sister court presided over by Justice Adeniyi Ademola, endorsed the list used for a parallel governorship primaries of the party, which produced him as the authentic candidate of the party.
However, Justice Evoh Chukwu, in his judgement disagreed with the lawmaker, saying the primaries conducted with the harmonised list of the party in the state, which produced Ifeanyi Ugwuanyi as the party's candidate subsists.
He ruled that the order of the sister court was merely declarative and not mandatory.
Justice Chukwu also stated that only one primary was held by the PDP national working committee in line with section 89[4] of the Electoral Act.
The Judge held that Ugwuanyi was declared the candidate of the party after voting by delegates in the party's primaries held on April 11 last year.
Supporters of the Enugu State governorship candidate, Honourable Ugwuanyi, received the news that the court had struck out the suit challenging his candidacy in cheers, celebrating the end of a case that had been postponed on four different occasions.
Addressing reporters at the end of the ruling, Alex Akoja, the lawyer to Senator Eze, said he would consult with his client to decide on whether to appeal the judgement.