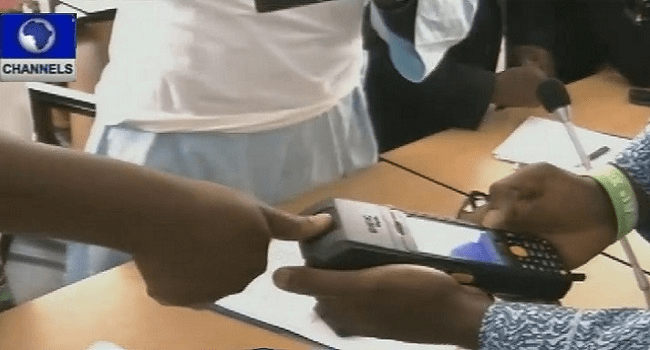 The Independent National Electoral Commission (INEC) in Nigeria has revealed its intention to further conduct field testing of the functionality of the Smart Card Readers (SCR) to be deployed for the accreditation of voters during the general elections.
In a statement on Monday, the commission said it decided to take advantage of the six weeks period of extension from the previous schedule to test-run the SCR to be used in various Polling Units (PU) across the country.
The general elections were re-scheduled from an earlier date of February 14 and 28 to March 28 and April 11.
"The Field Testing"
"The field testing will take place in two states of each of the six geopolitical zones of the federation. It will take place simultaneously on Saturday, 7 March 2015," the INEC said, quoting a Decision Extract issued on 26 February 2015 and signed by the Director of the Commission's Secretariat, Ishiaku A. Gali.
According to the commission, the states selected for the exercise are: Ekiti and Lagos, South West; Anambra and Ebonyi, South East; Delta and Rivers, South South; Kano and Kebbi, North West; Bauchi and Taraba, North East; Niger and Nasarawa, North Central.
The Resident Electoral Commissioners (RECs) of the selected states are tasked on  Selecting one Registration Area with full complement of the PVCs and with appreciable distribution level of such PVCs for undertaking the field test.
They are to also ensure that the Register of Voters in respect of all PUs in the selected Registration Area is printed for the conduct of the exercise.
Another duty of the RECs is to carry out engagements with key stakeholders at the state level, and in particular, stakeholders in the selected Registration Area where exercise would be conducted to ensure massive participation by registered voters.
In the Decision Extract, the INEC further directed that National Commissioners should supervise the conduct of the exercise in their zones.
It added that the RECs, who are not selected for the exercise, should observe the conduct of the exercise in their zones in conjunction with the National Commissioners.