Al Shabaab Storms Kenyan University, 70 Killed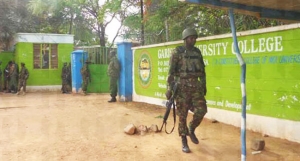 Scores of people were killed on Thursday when Islamist militant group al Shabaab stormed a Kenyan university campus, taking Christians hostage and engaging security forces in an extended shootout.
With scores of students wounded and hundreds unaccounted for, Police and soldiers surrounded Garissa University College. They sealed off the compound and were trying to flush out the gunmen, Kenyan police chief, Joseph Boinet said.
Al Shabaab claimed responsibility for the pre-dawn attack near the Somali border. The group has links to al Qaeda and a record of raids on Kenyan soil in retaliation for Nairobi sending troops to fight it in its home state of Somalia.
Authorities offered a 20 million shilling ($215,000) reward for information leading to the arrest of a man called Mohamed Mohamud, described as "most wanted" and linked to the attack.
Al Shabaab's military operations spokesman, Sheikh Abdiasis Abu Musab, said it was holding many Christian hostages inside.
"We sorted people out and released the Muslims," he told Reuters. "Fighting still goes on inside the college."
Boinet said the attackers had "shot indiscriminately" while inside the university compound.
Earlier reports said at least 14 people had been killed, including two security personnel while the Red Cross said 50 students had been freed.
Interior Minister, Joseph Nkaissery, in his initial statement also said 280 of the 815 students at the university had been accounted for and efforts were underway to track down the others, according to the Twitter feed of Kenya's national disaster agency.
It did not say how many students remained trapped on the campus. Some had managed to escape unaided.
One image provided by a local journalist shows a dozen blood-soaked bodies strewn across a single university classroom, raising the likelihood that the death toll will rise significantly when the security services clear other al Shabaab-held parts of the campus.
"We heard some gunshots and we were sleeping so it was around five and guys started jumping up and down running for their lives," an unnamed student told Reuters TV.
Death Toll Rises To 70
The death toll in the university attack in northeastern Kenya later rose to at least 70 on Thursday, with another 79 wounded, but the siege was almost over, Kenya's Interior Minister, Joseph Nkaissery, later said.
Nkaissery told reporters in Garissa that about 500 out of 815 students were accounted for, while four al Shabaab fighters were killed and 90 percent of the threat eliminated. However, he cautioned that "the operation is ongoing, anything can happen."
At the same press conference in Garissa, Kenyan police chief, Joseph Boinet, said the East African country has introduced a dusk to dawn (6.30pm – 6.30am) curfew for four regions near Somalia border as a security precaution.
"We have 49 casualties so far, all with bullet and (shrapnel) wounds," said a doctor at Garissa hospital.