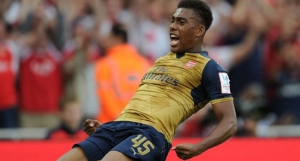 Arsenal delivered a dazzling attacking performance against Lyon to claim a comfortable victory in their opening match of the Emirates Cup.
The Gunners took control just before the half-hour mark during a breathless nine-minute spell in which they scored four times.
It started with Olivier Giroud heading home Mesut Ozil's free kick and moments later they doubled their lead as the rampaging Alex Oxlade-Chamberlain raced through to slot beyond Lyon goalkeeper, Anthony Lopes.
Less than 100 seconds later and they had a third as teenage forward Alex Iwobi capped off a lively first-half showing by firing into the top corner after good work from Aaron Ramsey.
The Welshman then added a fourth in the 38th minute when he raced on to Ozil's pass to poke the ball in at the near post.
It would take some going to match their first-half display after the restart, but the Gunners were determined to put on a show and they claimed their fifth just after the hour when Ozil drilled in a powerful shot.
Santi Cazorla added a sixth late on from a free kick, with the Gunners' imperious display offering genuine cause for optimism ahead of the coming campaign.
Arsene Wenger told the media after the game, "It was a good, dynamic, collective performance where we could see that many players scored goals. Overall it's in the continuity of what we did at the end of last season, and we've taken that form into pre-season as well.
"There's a good team dynamic and we've shown again that we can score goals, which is what everybody expects from us.
The manager, however, called for caution on making a statement for the Premier League title
"Let's be cautious on that front. We finished third in the league and won the FA Cup last season. That's a good basis, of course. Our target is to do better.
"We know that we will put all of our effort in and that it will be very difficult because it will be a big challenge. We just want to focus on our quality.
"Top-level sport requires you to get the best out of your potential, so to achieve that it's important that we focus on our own performance and do not worry too much about the others. We just have to focus on being as good as we can be."
Arsenal face Bundesliga runners-up, Wolfsburg on Sunday in their next match of the Emirates Cup.