Nation Building: Mrs Osinbajo Tasks Nigerian Women On Unity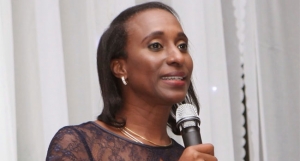 Women have been advised to unite irrespective of political, ethnic and religious differences in order to achieve sustainable development and the much desired change for the nation.
The wife of the Vice President, Mrs Dolapo Osinbajo, said this at the 2015 Imo Women August Meeting which took place at the Heroes Square in Owerri the Imo State capital south east Nigeria, where she represented the wife of the President, Hajia Aisha Buhari as the Special Guest of Honour.
She said that women play a key role in the growth and development of any nation and as such, when they unite in one spirit and goal, it would bring about the needed change in the country.
The programme, with the theme 'Imo Women; Dare To Dream' was hosted by the wife of the Imo State Governor, Nkechinyere Rochas. It had in attendance, women and dignitaries from different parts of Imo State with various colourful attires and costumes.
The host, Mrs Nkechinyere Okorocha, commended the Vice President's wife for honoring the occasion with her presence which she said would go a long way to boost the actualization of the theme of the programme in the lives of Imo women.
She said that the theme was chosen to encourage Imo women to dream big and aspire to become anything they wish to become no matter their foundation or background.
The Imo State Governor, Rochas Okorocha, who was also present at the event, urged all leaders across the country to give women more chance in public service as well as increase women participation in governance.
He added that the people of Imo State would continue to support the President Buhari-led federal government in a bid to deliver the full dividends of democracy to all Nigerians.
Before her departure, Mrs Osinbajo commissioned some infrastructural projects initiated and built by the wife of the Imo State Governor, Mrs Nkechinyere Okorocha.